Emmet Bondurant is one of the best business lawyers in the country, but now he's suing to change the country. Bondurant is convinced that the filibuster is unconstitutional, and along with Common Cause, he wants the Supreme Court to abolish it.
In fact, the filibuster was a mistake that has grown like a cancer. Proof that it was a mistake comes from the fact that the founders debated whether to require a supermajority to pass legislation in Congress, but explicitly rejected that idea. Alexander Hamilton savaged the idea, saying "its real operation is to embarrass the administration, to destroy the energy of government and to substitute the pleasure, caprice or artifices of an insignificant, turbulent or corrupt junta, to the regular deliberations and decisions of a respectable majority." Sound familiar? James Madison of requiring a supermajority that "the fundamental principle of free government would be reversed."
The Constitution clearly states 6 (and only six) instances when a supermajority is required: impeaching the president, expelling members, overriding a presidential veto, ratifying treaties, and amending the Constitution. It also provides for the Vice President to break ties, clearly indicating that 51% should be the number for passing legislation. But today, a supermajority is required to pass virtually anything. How did that happen?
In 1806 the Senate was cleaning up their rule book, which had grown complicated and redundant, and they eliminated a rule that was used to end debate. Aaron Burr recommended getting rid of the rule because it was almost never used, and besides, senators were gentlemen who knew when to stop talking.
Not any more I guess.
Even after the rule was eliminated, the first filibuster didn't happen for another 30 years. In the 60 years after that one, it was only used 16 times. But the number of filibusters skyrocketed starting in the 1970s, as partisanship heated up. The figure shows the number of times motions were filed to end a filibuster: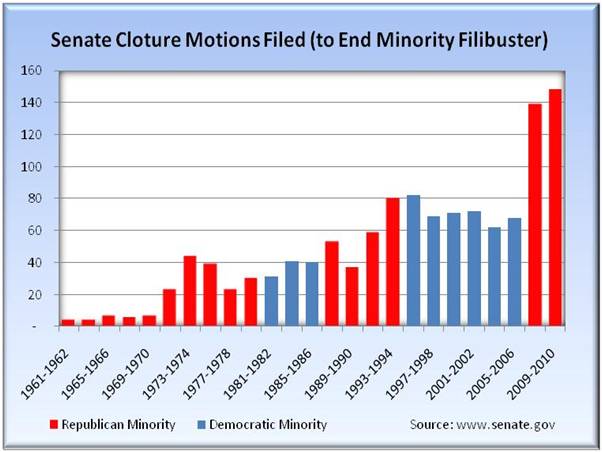 While both parties are guilty of using excessive filibusters, the GOP has clearly taken it to insane levels, in their campaign (as Hamilton put it) to "embarrass the administration".