I know McCain keeps talking about how he has gone against his own party, in order to demonstrate that he is a maverick, but now he is even pissing off his own campaign. A few days ago, McCain pulled his people out of Michigan and shifted his resources to battleground states, effectively giving the state to Obama. Apparently, this maverick move (and the way he did it) didn't sit well with some of his staff there..
Politico was able to get ahold of a few juicy emails, including this one sent out from county campaign chair Jack Waldvogel to a large list of other Michigan Republicans. Here are some quotes:
If you are going to end visits to the state by McCain/ Palin, do it. Just don't formally announce that you are 'pulling out' of Michigan, and then come back two days later asking the base core of support to 'keep working.'  What a slap in the face to all the thousands of people who have been energized by the addition of Sarah Palin to the ticket. I've been involved in County Party politics and organization for 40 years, and this is the biggest dumbass stunt I have ever seen.
He has given up on our State? What a total and complete crock of crap. Again, I think McCain owes the Republicans and the People of Michigan a HUGE APOLOGY. SOON!
How on earth are we to get people to work for McCain here, when he has already, publicly, in the media, given up on Michigan?  We feel abandoned, we are disappointed, and we are heartsick to know that we aren't important enough for him to fight for.
I guess nobody will ever doubt his maverick-ness again!
UPDATE: Even Sarah Palin is disappointed in McCain's decision to pull out of Michigan. In an interview with Fox News she made her opinion clear:
I fired a quick e-mail and said, 'oh, come on! Do we have to call it there?' Todd and I would [be] happy to get to Michigan and walk through those plants [with] car manufacturers.
Which inspired this: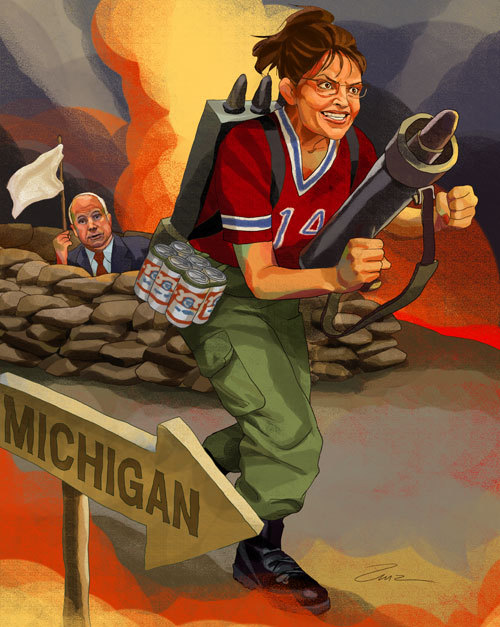 © Zina Saunders