Last night at the final debate, Obama objected to people saying that he pals around with terrorists. McCain must have misunderstood, because it is Sarah Palin who has said that numerous times, but McCain's response is interesting nonetheless:
Let me just say categorically I'm proud of the people that come to our rallies.
I'm not going to stand for people saying that the people that come to my rallies are anything but the most dedicated, patriotic men and women that are in this nation and they're great citizens.
Then he tried to deflect:
… there's a lot of things that have been yelled at your rallies, Sen. Obama, that I'm not happy about either.
I have trouble believing that you would be able to find people at Obama rallies saying things like the following recorded at a Palin rally in Ohio:
UPDATE: A local GOP group in Southern California printed the following image in their newsletter, with this caption:
Obama talks about all those presidents that got their names on bills. If elected, what bill would he be on????? Food Stamps, what else!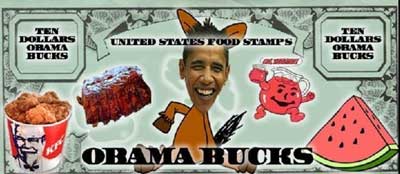 The person who put it in the newsletter (the group's president) has apologized, and denied that she was being racist. But Obama's face on a food stamp, surrounded by images of fried chicken, ribs, and watermelon? Really? Oh, and I won't be able to give credit for the image, as she got it from a chain email.
UPDATE 2: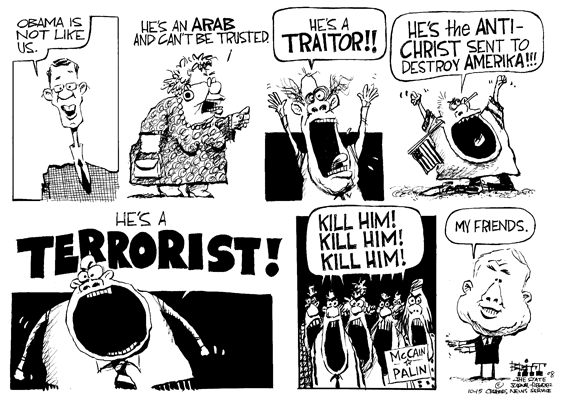 © Chris Britt