A bunch of people have sent this photo to me to post, but I've been resisting since it is all too easy to capture someone in an awkward pose. The photo was actually taken as McCain started to exit off the stage at the last debate, but realized he was going the wrong way and abruptly changed course.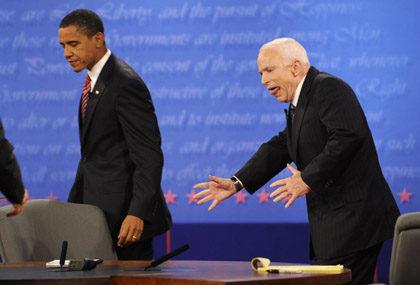 © Emmanuel Dunand
But what IS funny are some of the captions that people have thought up for this photo. My faves so far:
McCain unexpectedly leading among zombie voters.
McCain finally gets to first base with his invisible friend Joe the Plumber.
McCain tries to make good on his pre-debate promise to kick Obama's you-know-what.
So I invite you to submit your own caption in the comments.