At least 20 people were told by McCain staffers to leave a McCain rally in Cedar Falls, Iowa today, or face being arrested for trespassing. None of them were protesting or causing any problems at all. According to one of the people who was ejected:
I saw a couple that had been escorted out and they were confused as well, and the girl was crying, so I said 'Why are you crying? and she said 'I already voted for McCain, I'm a Republican, and they said we had to leave because we didn't look right.' They were handpicking these people and they had nothing to go off of, besides the way the people looked.
How did the people who were ejected look? "It was pretty much all young people, the college demographic."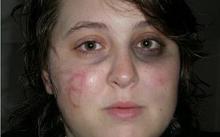 Apparently the McCain campaign doesn't believe any college students would possibly attend a McCain rally (let alone vote for him). Which is insane, since we have all seen at least one McCain supporter of college age (see photo at right).
And isn't it sad that they are now profiling people and ejecting them just because they look like they might be protestors?