Here's another one of those stories that truly wins the irony award. In Princess Sparkle Pony's Photo Blog (subtitle "I keep track of Condoleezza's hairdo so you don't have to") is a story about a recent service at the Greater Grace Temple in Detroit. The title of the article is "Programming Note: This Week, the Part of the Golden Calf Will be Played by Three Sport Utility Vehicles".
At this service, called "A Hybrid Hope", Bishop Charles Ellis prayed for the future of the American auto industry. But what makes it truly astounding was that Bishop Ellis shared the altar with three SUVs (one from each company in the holy auto trinity, of course).  See for yourself: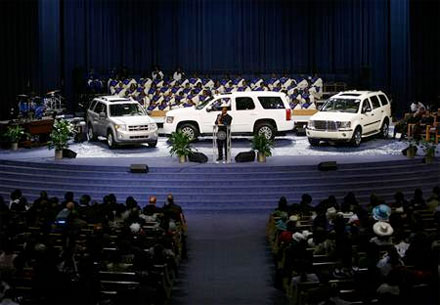 As if that wasn't enough, Ellis summoned up hundreds of auto workers and retirees in the congregation to come forward toward the vehicles on the altar to be anointed with oil. Yes, oil. You just can't make stuff like this up.
From Reuters, via Princess Sparkle Pony. More photos.