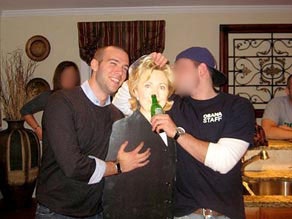 Jon Favreau, Obama's chief speechwriter during the campaign, has gotten himself into trouble because of some photos that appeared on his Facebook page, showing him at a recent party playing with a life-sized cardboard cutout of Hillary Clinton (he's the guy on the left in the photo, feeling up the statue). Another photo showed him dancing with the cutout.
An apology was offered to Clinton, and the offending photos were removed, but the best part is the response from Clinton aide Philippe Reines:
Sen. Clinton is pleased to learn of Jon's obvious interest in the State Department, and is currently reviewing his application.
Touché!