Despite their claim to be "fair and balanced", hardly anyone is surprised at the stupid antics pulled by the Fox News Channel anymore. Nevertheless, some people complained when FNC started actively promoting anti-Obama "tea party" protests across the country, even inviting their viewers to participate in "FNC Tax Day Tea Parties" featuring their top stars: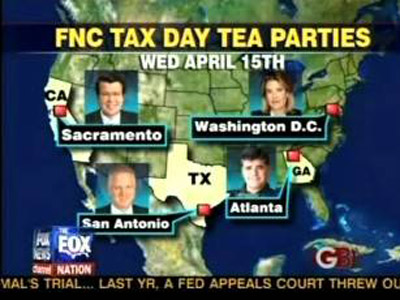 FNC's Neil Cavuto bristled at those complaints, claiming:
We are are going to be in the middle of these protests because at Fox, we do not pick and choose these rallies and protests. We were there for the Million Man March, even though, as I pointed out, it turned out to be well shy of a million men.
What's really hilarious about this is that the Million Man March took place in October 1995, while Fox News first went on the air a year later, in October 1996.
Even ignoring that ginormous faux pas, reporting on protests is not the same as promoting and sponsoring them. Somebody please take away their press credentials.