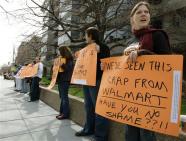 As they say, the shoemaker's children go barefoot, but it is a bit ironic that employees of the Service Employees International Union (SEIU) are picketing the union itself for unfair labor practices. SEIU recently laid off around 75 workers. The employees claim age and race discrimination, and that SEIU dismissed workers without proper notice and refused to meet with employees before their collective bargaining agreement expires next week. You know, the kind of things that the SEIU accuses all those greedy corporations of doing.
The employees have their own union, the UUR (Union of Union Representatives), which represents around 210 SEIU organizers and  field staff around the country. UUR president Malcolm Harris said:
This union is supposed to be at the forefront of the progressive movement, but it can't seem to follow its own ideology. … SEIU's treatment of employees could undermine the union's effort to pass federal legislation that would make it easier to organize unions.
Harris also accused the SEIU of "borrowing unsavory management tactics" from the companies they normally fight against.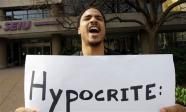 If you think this is an isolated occurrence, a similar thing recently happened at the Equal Employment Opportunity Commission. The federal agency that is supposed to enforce labor laws was found in violation of its own worker's rights for not paying overtime.
Supporters of the EEOC claim that the agency was "gutted" during the Bush administration (along with most other regulatory agencies), and that the Obama administration is making good on his campaign promise to restore the EEOC to something more than a laughingstock.