The term "astroturf" was coined to refer to "grass-roots" events that are faked — typically organized and financed secretly by a hidden organization to promote their political goals.
One of the most famous examples of astroturfing was the "Brooks Brothers Riot" that succeeded in stopping the Florida recount during the 2000 presidential election. That somewhat violent riot was designed to appear to be spontaneous, but was actually organized by Republican congressman John Sweeney, and the protestors were Republican congressional staffers who were flown in specifically for the event.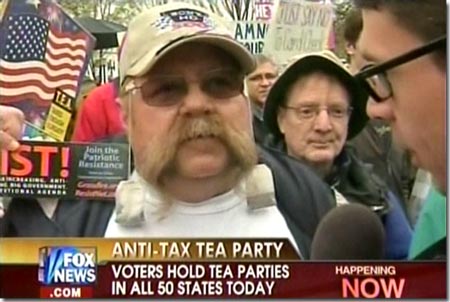 Today, on Tax Day, we are seeing essentially the same thing in the "Tea Bagging" parties that are being promoted by various well-financed conservative organizations, including Fox News. What makes these events particularly ironic is that they are being organized and paid for by the very people that the tea baggers should actually be protesting.  As Matt Taibbi puts it "You know you're a peasant when you worship the very people who are right now, this minute, conning you and taking your shit."
Doubly ironic is that the "tea bagging" parties are supposedly protesting high taxes, but a new Gallup poll shows that more Americans say that their tax rate is "about right" than say that it is "too high". In other words, there is no groundswell of protest against tax rates, other than perhaps among the rich — who of course are the people financing the tea bag events. Not only that, but the tea parties are targeting their rage at Obama, even though he is actually cutting taxes for anyone making less than $250,000 per year.
But those events are just practice for what might turn out to be the largest astroturf in history — the coming sham "grass-roots" campaign against the reform of the health insurance industry. Already, health insurance lobbyists have hired a PR firm to send phoney letters to the editor. In fact, the PR firm is sending in letters using the names of actual senior citizens, without their consent or even knowledge. The PR firm even called up a newspaper to see if a letter supposedly sent by Gloria Gosselin was going to be printed, and pretended to be her grandson. Except Gosselin didn't write a letter, and the caller wasn't her grandson.
The health insurance industry was able to derail reform during the Clinton administration, and as a result we now pay more for health care than any other nation, and get less in return. Will we get fooled again?
UPDATE: PopCrunch has a list of some of the worst examples of Astroturfing that is worth a read.