The New York Times reports that Congressman Pete Sessions, the head of the House Republican campaign committee, claims that the Obama administration is purposely working to increase unemployment and diminish stock prices. Why? So they can "divide and conquer" the American people and consolidate power.
Sessions conveniently ignores the fact that unless the economy starts to revive, unemployment gets under control, and the stock market stabilizes, then Obama is unlikely to have any power at all, because the Democrats would get pounded in the mid-term elections in 2010 and Obama himself would probably not win a second term. In fact, it is pretty obvious that it was the economic collapse during the last year of the Bush administration that cost the Republicans in the 2008 elections. But this would not be the first time that Republicans have argued that the Obama administration was responsible for something that happened before they even won the election, let alone took office.
But never mind all that. Sessions claims that Mr. Obama's evil secret agenda is "to inflict damage and hardship on the free enterprise system, if not to kill it." Oh my! Doesn't this remind you of the conspiracy nuts who claimed that the Bush administration engineered 9/11 themselves so they could consolidate power? Of course, the media immediately dismissed those people as tin-foil-hat wearing crazies, while Session's unsupported claims are official Republican campaign positions.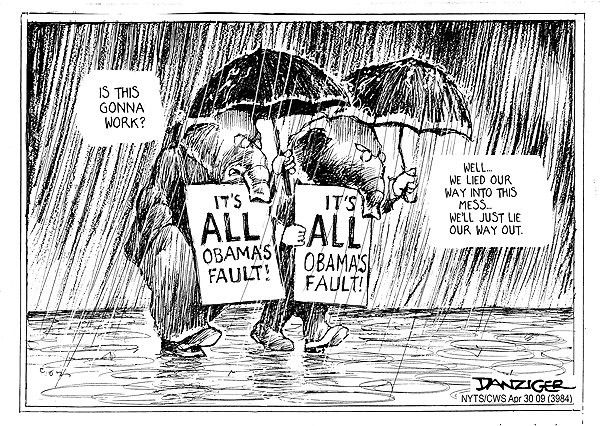 © Jeff Danziger