One of the complaints that conservatives like to throw at judges they don't like is that they are "activist judges" who "legislate from the bench". They seem to use it as an all-purpose insult, even when it doesn't apply. An excellent example of this is Obama's nominee to the Supreme Court, Sonia Sotomayor.
When conservatives call Sotomayor an "judicial activist" they are simply ignoring the facts. And there are plenty of facts to chose to ignore. SCOTUSblog has an excellent review of Sotomayor's opinions as an appellate court judge, from which a clear picture emerges of someone who is anything but a judicial activist.
In just one of the examples, a voting rights case in 2006, Sotomayor wrote in her opinion:
The duty of a judge is to follow the law, not to question its plain terms. I do not believe that Congress wishes us to disregard the plain language of any statute or to invent exceptions to the statutes it has created. … But even if Congress had doubts about the wisdom of subjecting felony disenfranchisement laws to the results test of § 2, I trust that Congress would prefer to make any needed changes itself, rather than have courts do so for it.
I have already noted that the case conservatives protest the loudest about, Ricci v. DeStefano, involving reverse discrimination against white firefighters, Sotomayor was clearly following the law. But that doesn't stop Rush Limbaugh from howling:
[Sotomayor] ruled against the white firefighter – Ricci and other white firefighters – just on the basis that she thought women and minorities should be given a preference because of their skin color and because of the history of discrimination in the past. The law was totally disregarded.
Let's ignore the fact that this case had nothing to do with women at all. According to PolitiFact, the unanimous "ruling by the three-judge panel makes no mention of giving preferential treatment to women or minorities". In addition, they state:
The first thing we note is that the opinion cites numerous other cases to back up various points. That alone weakens Limbaugh's claim that "the law was totally disregarded."
The opinion itself states that "the Board, in refusing to validate the exams, was simply trying to fulfill its obligations under Title VII when confronted with test results that had a disproportionate racial impact, its actions were protected." In other words, Title VII (a law) specifically prohibits the board against claims of reverse discrimination.
If conservatives don't like that law, they should work to get it changed, not protest when a judge doesn't change it for them. It is the height of hypocrisy to call someone an activist judge and then protest loudly when they don't legislate from the bench.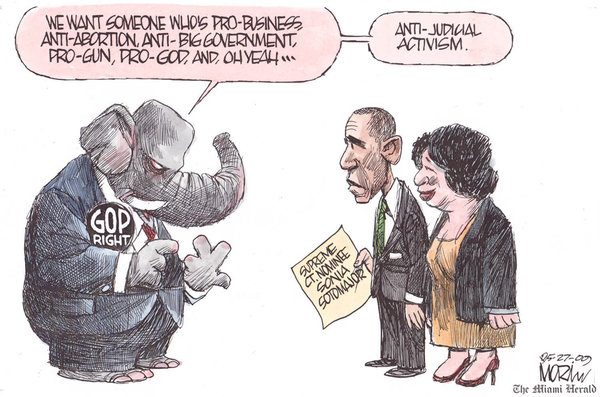 © Jim Morin
UPDATE: Here's an article by Geoffrey Stone (a law professor at the University of Chicago, which is one of the most prestigious and conservative law schools in the country) on the "Hypocrisy of 'Conservative' Critics". Stone makes the point that conservatives who claim that they don't want activist judges are betrayed by their actions.
What the conservatives commentators really want in a Justice … is not judicial passivism but judicial activism. What they want is not strict construction, but free-wheeling, activist interpretation … which is exactly what they've gotten from Justices Rehnquist, Roberts, Scalia, Thomas and Alito. What they want is conservative activism – the aggressive use of judicial power in order to smuggle conservative political views into the interpretation of the Constitution.