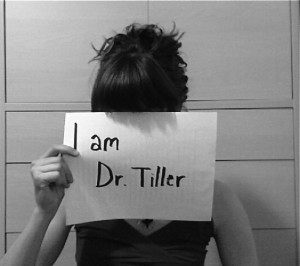 There is a new website http://iamdrtiller.com/ devoted to the memory of Dr. George Tiller, the abortion doctor who was shot and killed in his church. The site contains letters and photos sent in from people. In some (but not all) of the photos, people are holding signs saying "I am Dr. Tiller" over their faces.
So Bill O'Reilly is discussing the site with Amanda Carpenter on his show last week, and asks what must be one of the stupidest questions possible:
Why are they hiding their faces, Amanda, if it's such a noble cause?
Mind you, O'Reilly is the person who kept calling the doctor "Tiller the baby killer", a "barbarian", "murderer", said he was "executing babies", compared him to Hitler and Stalin, and said that anyone who didn't help stop him had "blood on their hands". So now he wants people to uncover their identities so he can demonize them on his TV show?
Yeah, right. Does O'Reilly want more blood on his hands?
On a lighter note, all this reminds me of something that happened to me many years ago, when I was a volunteer doing clinic escorts. Our job was to escort patients into health clinics to help them get through the phalanx of anti-abortion protesters. One time, I had given a ride to another volunteer — a woman about my age — and as we were walking toward the clinic the pro-life forces started running after us, thinking we were a couple going to get an abortion. They started screaming at us that we were killing our baby, and without thinking I spun around and yelled "Can't you see that she was raped by an Albanian dwarf?" For some reason that stopped them in their tracks and they left us alone.
Apologies to any Albanians.