The recent murder of a doctor who performed abortions, after right-wing pundits such as Bill O'Reilly called him a "baby killer" on the air, and said that people who didn't do anything to stop him had "blood on their hands", has started a conversation about the ethics of the news profession.
First, I have to say that there is a reason why freedom of speech and freedom of the press are in the First Amendment of the Bill of Rights. However, even though we want to allow as much freedom of speech as possible, it is still illegal to yell "Fire" in a crowded theater.
So are news pundits responsible when they instigate violence in others? Roger Ebert has an interesting column that compares O'Reilly to a school bully who incites others to violence while proclaiming his own innocence. Ebert cites the fact that two thirds of school shooters had been the victim of bullying and view themselves as persecuted.
Another article studies O'Reilly, showing how he uses all seven of the common propaganda techniques. But even if we believe that what O'Reilly does is wrong, should something be done about it? I don't know.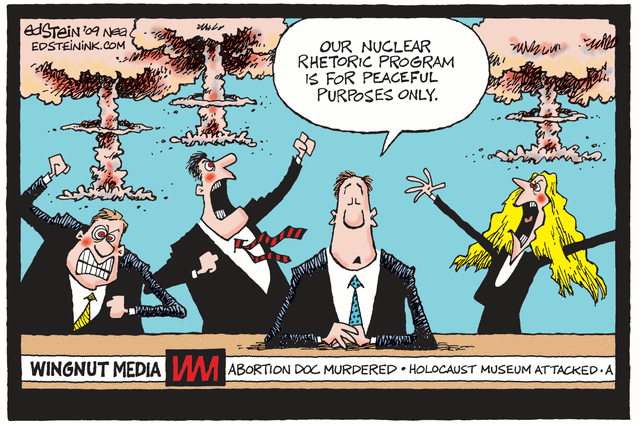 © Ed Stein