Is becoming the party of white supremacists the best way for the Republican Party to attract new members?  Pat Buchanan seems to think so, but the result was not just dripping with irony, it was positively drowning in it.
Last Saturday, Buchanan hosted a conference — optimistically entitled "Building the New Majority" — on how to reverse the trend that has put Republican Party membership numbers in the toilet (in a Washington Post poll released today, only 22% of Americans now identify themselves as Republicans).
Of course, appealing only to whites is a stupid way to try to build a new majority, since according to US Census Bureau projections, whites themselves will become a minority in the USA by 2042 (and overtly racist whites will become a minority long before that, if they aren't already).
Of particular interest was a panel session that discussed "English only" laws that are popular with the anti-immigrant crowd. Of course, Buchanan can't resist taking a cheap shot at Obama's nominee to the Supreme Court:
Judge Sotomayor is up there at school in New York, she gets a scholarship to Princeton … What's she doing there in the summer? They said her adviser told her to read children's classics so she can learn English better. How do you graduate number one in Princeton if you're in the summer and you're reading Rumpelstiltskin and Snow White? [laughter]
The truth is that Sotomayor read classic children's books that she missed growing up in a Spanish-speaking home, such as "Huckleberry Finn" and "Pride and Prejudice", not fairy tales like Snow White.
Also on the panel was white supremacist Peter Brimelow, editor of vdare.com (who prefers to call his position "white nationalist"). Brimelow announced that it would be "suicidal" for any white man to vote for Obama. Brimelow also said that the language issue was good for Republicans because it "polls better than immigration and affirmative action".
But the most ironic thing? Notice this photo of Buchanan and Brimelow at the conference. How can you claim to be promoting the English language under a banner containing the non-word "Conferenece"?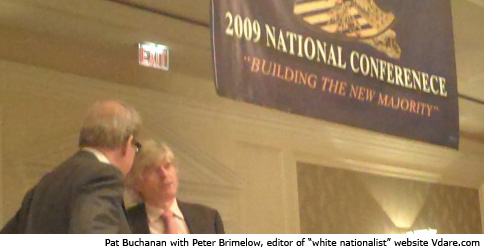 [Think Progress has audio from the panel session.]
Incidentally, a frequent attendee in the past, but missing from this year's conference, was the director of Buchannan's anti-immigrant organization "The American Cause", Marcus Epstein, who is scheduled to be sentenced on assault charges on July 8. According to court records, Epstein was drunkenly walking down a street in DC making rude comments about non-whites, and "decided to express himself more dramatically" by calling a black woman who was passing by a "nigger" and attempting to karate chop her in the head.