Instead of a "healthy" debate, the arguments against health care reform are becoming more and more bizarre. I've already talked about the fact that even though most people are in favor of single-payer health insurance, our representatives are so owned by the insurance companies (who are paying off politicians with the money they have been ripping off from us) that they are not allowed to even mention single-payer as a possibility.
But it gets even weirder from there. Now the insurance industry is trying to kill the idea of even giving you a choice of a public option. Who could be against the idea of giving you a choice of either keeping your existing health insurance, or having the option of a government-run insurance plan (especially to people who have been turned down for insurance)? We are talking about something like Medicare, but which would be available to all those people that private insurance companies refuse to cover. If we can't have the single-payer system we want, could this be a reasonable compromise?
But like a jealous lover, the insurance industry doesn't want you to be able to get health insurance from anyone, even if they turn you down! Take the recent argument from Senator Chuck Grassley (R-Iowa). Grassley argues that a public insurance option would be so popular — that people would prefer it so much over private insurance — that it cannot be permitted. The private insurance industry is so important (at least to his campaign contributions) that he would prefer that people die rather than give them the choice of a public plan!
Next is the attack ad being run by the double-speak group Conservatives for Patients' Rights (CPR), who bizarrely warn you that giving you a choice of a public plan would actually deny you the "choice" of being ripped off by private insurance companies. Seriously! I guess this should not be a surprise, since the leader of CPR is a former health insurance CEO who was forced out of his job after his company committed the largest health over-billing fraud case in history, not to mention that the PR firm that created the ad is the same company that came up with the "Swift boat" attack ads against Kerry in 2004.
So if the health insurance companies can't come up with any actual, valid arguments against a public option, what can they do? How about a Republican website that says:
Obama and Hitler have a great deal in common … Say NO to the Obamination of Obama Care!
Yup, if calling a public option socialism doesn't work, they escalate to calling it fascism! Are you afraid yet? Of course, Obama has no problem debunking the myth that the secret evil socialist purpose of a public option is to put private insurance companies out of business.
Another tactic is to simply deny that there is any public support for a public option. Recently, Senator John Cornyn (R-Texas) did just that, claiming that all those polls that show overwhelming support for a public option must be wrong, using a statistical argument that was immediately debunked.
But the lies don't stop there. Opponents of a public option still claim that a public plan would be subsidized by your tax dollars, which they say would give it an unfair advantage over private insurance. But this is simply false. The only subsidies that are being proposed would go to individuals and families, who could then use them on their choice of insurance (either private or public). In an excellent article, Robert Reich goes through the arguments being thrown out against a public option and debunks them.
So what can be done about this? Plenty! First, pass around this article about a former insurance industry insider who testified to Congress about all the ways that private insurance companies rip people off. Second, give support to groups that expose representatives who lie about health insurance reform. Finally, and most importantly, contact your own representatives. The only way to counteract all the pressure that is being put on them from the powerful insurance industry is for them to hear from us, the people who are suffering from substandard health care. Tell them you're angry and you're not going to take it any more!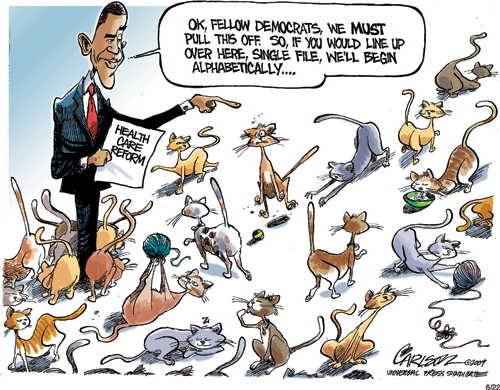 © Stuart Carlson
UPDATE: The right continues to lie about health care reform, and the media is letting them get away with it.
UPDATE 2: A study published in the New England Journal of Medicine indicates that our current health system isn't working even for people who have adequate insurance.