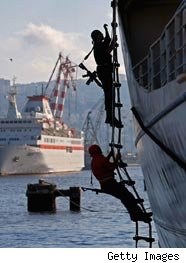 I'm not sure if this is a joke, and I suspect it is, but a few sites (here, here, and here) are reporting that a (suspiciously unnamed) Russian luxury yacht company is offering pirate hunting cruises off the coast of Somalia.
Not only do they hope to get attacked by Pirates, they guarantee it (or half your money back). They deliberately cruise at a slow speed of five knots and play music to attract attention. Not only that, but you can rent an AK-47 for only $7.50 a day (plus $10 per 100 rounds of ammo).
The rumors may have been started by the Somali Cruises site, which even includes testimonials like the following:
Six attacks in 4 days was more than I expected. I bagged three pirates and my 12yr old son sank two rowboats with the minigun. PIRATES: 0 – PASSENGERS: 32! Well worth the trip. Just make sure your spotter speaks English.
I haven't had this much fun since flying choppers in NAM . Don't worry about getting shot by pirates as they never even got close to the ship with those weapons they use and their shitty aim.
I got three confirmed kills on my last trip. I'll never hunt big game in Africa again.