Just about everyone was caught by Sarah Palin's surprise announcement that she is resigning as governor of Alaska. So far, nobody has any idea why she is stepping down. She was expected to announce that she would not run for reelection — possibly to free her up for a presidential bid in 2012 — but to resign before she has served out her term as governor?
Andrew Sullivan has a good survey of the reactions, which range from "Bizarre" to "Unless she's a total moron, there's no way she's running for president. Then again, maybe she is a total moron." And of course, her rabid supporters over at Free Republic are very unhappy.
So far, the only reason that anyone has advanced as to why she is resigning is this (probably doctored) photo: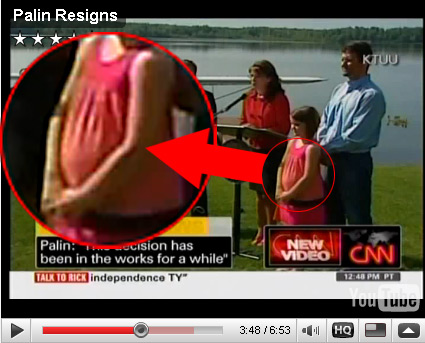 If you have any idea of what Palin is thinking, let us know in the comments.
UPDATE: At the suggestion of a commenter, I reviewed the video and I now do not believe that the photo is doctored. And of course I never thought that she was actually pregnant. But I still think it is ironic, given the role that various pregnancies have played in this story. I'm sorry if I've offended anyone.
UPDATE 2: A possible reason? A new scandal brewing.
UPDATE 3: Palin responds, threatening a defamation suit.
UPDATE 4: FBI denies that Palin is under investigation for corruption (as was postulated previously — see update 2).