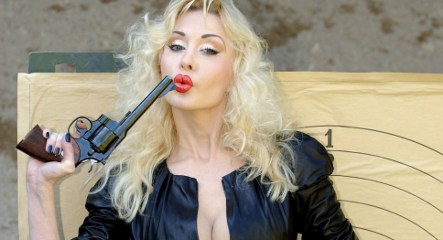 Former porn star Nora Baumberger (nee "Dolly Buster") is upset because her name is on the ballot as a candidate for city council in the German city of Wesel. Baumberger is worried that this could ruin her reputation. "I've been nominated by a group whose name I've never even heard of. I'm really irritated."
Her husband Dino, who produces porn films, also appears on the ballot as a candidate.
But what is really ironic is that the pair actually signed forms to become candidates. They claim they thought they were signing up to be members of the party, not candidates. But it makes you wonder how she can claim to not ever have heard of the group's name. Not only that, but Nora Baumberger ran for a seat in the European Union parliament in 2004.
Despite protesting "I wouldn't vote for me. … The people should just not vote for me!" — I'll bet she wins.