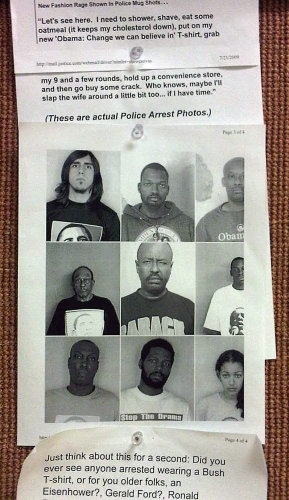 A county judge in Lubbock, Texas has caused a kerfuffle for posting anti-Obama notices on the courthouse wall. Actually, they are more about Obama T-shirts, but they are pretty offensive nonetheless.
One notice is a fake diary entry:
Let's see here. I need to shower, shave, eat some oatmeal (it keeps my cholesterol down), put on my new "Obama: Change we can believe in" T-shirt, grab my 9 and a few rounds, hold up a convenience store, and then go buy some crack. Who knows, maybe I'll slap the wife around a little bit too… if I have time.
Another notice shows nine arrest photos of people (almost all minorities) wearing Obama T-shirts, with the caption:
Just think about this for a second: Did you ever see anyone arrested wearing a Bush T-shirt, or for you older folks, an Eisenhower?, Gerald Ford?, Ronald Reagan?
There are other anti-Obama cartoons as well. Some people accuse the judge of being racist, but even if you think he isn't being racist, I don't think it is appropriate for him to be posting political materials like this in the courthouse.
Even so, I can't help but have some fun, so here's a few retorts that I would love to post below his notice:
For heaven's sake, stop arresting only people wearing Obama T-shirts!
That's what happens when you make it illegal to wear Obama T-shirts in your county. In addition to DWB, you must have DWWOTS.
Nobody is stupid enough to be caught wearing a Bush T-shirt.
The judge defended his actions, saying he didn't think there was anything wrong with what he posted and that he had not heard from anyone who did. To which I would respond: Did you ever notice that as a judge, people might be a bit reluctant to complain about your offensive materials plastered all over your courthouse walls?
If you think of a cute retort, I welcome it in the comments.
UPDATE: A reader contributed this particularly good one:
Republicans don't get arrested in t-shirts. They get arrested in suits.