Representative Joe Wilson (R-SC) will probably now be known forever as the man who shouted "You Lie!" during Obama's speech to Congress.
But it appears that his emotional outburst is backfiring. The Democratic fund raising site ActBlue is showing a huge amount of money is being donated to Wilson's opponent in the upcoming election.
And even Time magazine had this to say:
At the moment Wilson exploded, the outburst seemed like an assault on the President. Soon afterwards, it was clear that it had been a gift. Wilson had, in an emotional expression, proven Obama's point: the summer of town halls had been less a discussion than a circus, a forum where misinformation was vindicated by passion, where disrespect was elevated as a virtue. Now the circus had come inside Congress.
And of course, the normal Internet silliness is already going full steam, including the website JoeWilsonIsYourPreexistingCondition.
Ironically, Wilson called Obama a liar over Obama's statement "the reforms I am proposing would not apply to those who are here illegally". But it is easy to verify what Obama said is true. Both the House and Senate versions of the reform bill clearly state that illegal immigrants will not receive any benefits from the government.
When talking to reporters today, Wilson again claimed that Obama's reforms would benefit illegal immigrants, because the bill lacked stringent verification procedures. But that claim has already been debunked by PolitiFact. Indeed, the current bills are neutral with respect to illegal immigration. What does Wilson want? To make it illegal for illegal immigrants to get any health insurance of any kind (even if they pay for it entirely themselves)? That would probably cause them to be even more of a drain, since emergency rooms are not allowed to turn anyone away (including illegal immigrants).
Personally, I think the whole illegal immigrant access to health care thing is a red herring. How would you feel if every time a crime was committed, when the police showed up they had to check to make sure everyone was either a citizen or a legal immigrant? So if someone is robbed and it turns out that they can not prove they are here legally, then the police would not bother to help them or to investigate the crime. After all, that would entail the government paying for free police services to illegal aliens!
Not only that, but I'm sure that plenty of illegal aliens are using our nationally funded highways. Don't we need more stringent verification to make sure all drivers are legal immigrants? And if someone's house is burning, the fire department should check to make sure they are legal before putting out the fire.
UPDATE: Here's an interesting angle from NPR:
Actually there is not much evidence that illegal immigrants are using Medicaid in a big way. A few years ago, the government tried to weed out undocumented migrants by requiring Medicaid recipients to prove their citizenship. Only a handful of illegal immigrants were discovered. But large numbers of citizens lost Medicaid because they couldn't provide the necessary documents. The requirement was later dropped.
Doesn't this remind you of the conservative noisemaking about voter registration fraud, which was actually a ruse to make it more difficult for low-income people to vote?
UPDATE 2: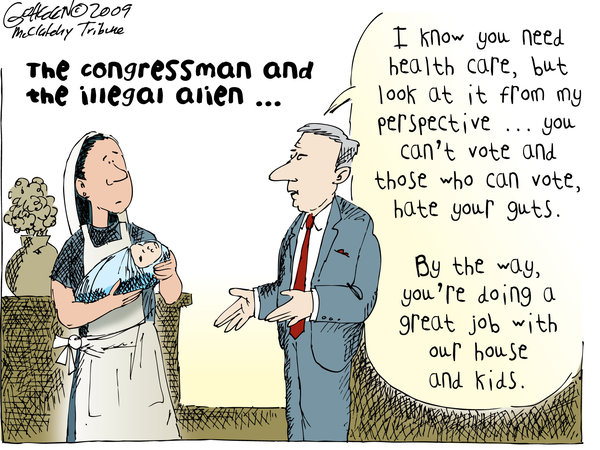 © Tim Goheen