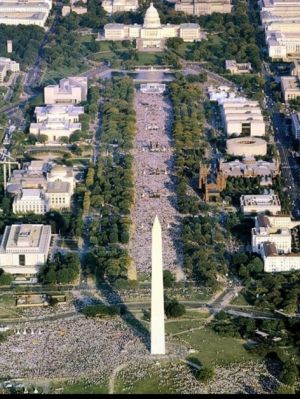 Conservatives lost no time trumpeting the huge crowds they attracted for the "tea party" protest on 12 September. While most estimates were in the "thousands" or "tens of thousands", conservatives were claiming as many as 2 million protestors, based on a photo (shown at right) published by the conservative "Say Anything" blog.
One conservative blogger wrote: "'Media' estimates range from 60,000 to 500,000 to around 2 million (yes, 2,000,000). Those estimates, the language employed, and the visuals chosen for use in reporting the rally and representing the people gathered, vary greatly based solely on bias." The claim being that the more liberal the media outlet, the smaller numbers they reported for the protest.
There's only one problem. The photo is at least 10 years old. It doesn't include the "National Museum of the American Indian", which opened in 2004. Closer inspection also shows construction cranes on the left side of the Natural History Museum, which were there during the 1990s when the IMAX theater was built.
Not only that, but reports of the actual protest on 12 September said that the protestors were mainly in the streets, not on the mall (as in the photo).
So, I'm going to have to agree with the blogger who claimed bias. It seems that the more conservative someone is, the more likely they were to report grossly inflated numbers.
Even funnier is the report at FiveThirtyEight, which blames the fabricated numbers on Matt Kibbe, the president of conservative FreedomWorks, who claimed that ABC had reported numbers between 1 and 1.5 million people, when they had actually said 60 to 70 thousand. This was then picked up by Michelle Malkin, but somehow grew to two million people.
The best line is when FiveThirtyEight points out that this is no small overstatement — this is a whopping 30-fold exaggeration. Or as Nate Silver put it, this is equivalent to Kibbe "telling people that his penis is 53 inches long."  (Note that the art of the delicious insult is not dead — if 53 inches is a 30-fold exaggeration, then Kibbe's penis must be less than 2 inches long.) Here's a website that shows the exaggeration graphically.