Here is an interesting graph, showing the year-over-year growth of the Gross Domestic Product over the last two decades for the G7 countries, the seven major western economies. You can click on it to see a larger image: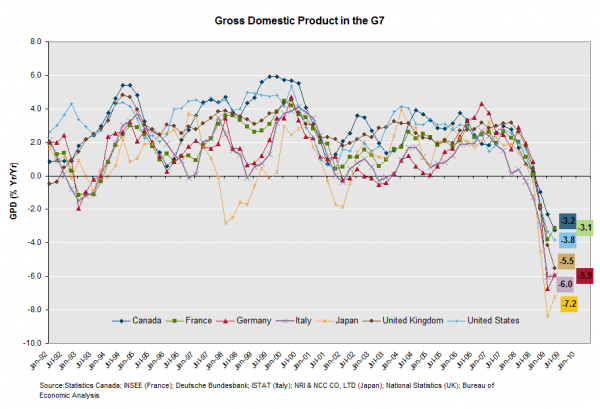 There are several interesting things we can see from this graph:
The current economic mess started early in 2008, a year before Obama took office (and before he was even expected to win the election). So people who blame this on Obama are either wing-nuts, or just nuts.
Compared to the economic swings since 1992, this one is pretty bad. But several countries are already starting to come out of it.
The countries whose economies dropped the most are Japan, Germany, and Italy. These happen to be the countries that went fascist (i.e., far right wing) in WWII. Coincidence?
The country whose economy fell the least (so far) is Canada. France was next, and it is one of the countries that is starting to recover. These are the most liberal countries in the G7.
The US GDP did best during the Clinton presidency (92-99), took a hit right after Bush took office in 2000, and then dropped the most during his last year in office. During Obama's first six months in office, the economic downturn slowed considerably. Based on the recent economic news, I expect it to improve over the next six months.