Last month, we reported on how Newt Gingrich's organization, American Solutions for Winning the Future, had named Allison Vivas, president of a porn superstore, a 2009 Entrepreneur of the Year and invited her to a private dinner "in recognition of the risks you take to create jobs and stimulate the economy". But they must not have wanted to stimulate the economy that much; they quickly backpedaled and took back the award after it hit the press.
In return, Vivas' company has created a special award for Gingrich, naming him the "Family Values Porn Fan of the Year, 2009". They even created a plaque for him.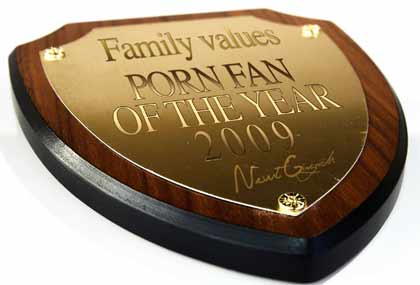 There is no doubt that Gingrich deserves the award, considering his "family values" (as reported by Washington Monthly):
The most notorious of them all is undoubtedly Gingrich, who ran for Congress in 1978 on the slogan, "Let Our Family Represent Your Family." (He was reportedly cheating on his first wife at the time). In 1995, an alleged mistress from that period, Anne Manning, told Vanity Fair's Gail Sheehy: "We had oral sex. He prefers that modus operandi because then he can say, 'I never slept with her.'" Gingrich obtained his first divorce in 1981, after forcing his wife, who had helped put him through graduate school, to haggle over the terms while in the hospital, as she recovered from uterine cancer surgery. In 1999, he was disgraced again, having been caught in an affair with a 33-year-old congressional aide while spearheading the impeachment proceedings against President Clinton.
But the best part is that Vivas plans on sending a followup letter rescinding the award, and offering the explanation that this particular honor was not intended for fans of their (NSFW) "Wife Switch" DVD series.