Yesterday, I reported on the irony of McCain's former health care advisor, who is losing his health insurance and has a preexisting condition.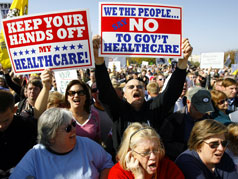 But the irony keeps coming. Earlier this month, wing-nut Michele Bachmann sponsored a protest against health care reform at the Capitol, with angry protesters holding signs like the one to the right, saying "We the People… Say NO to Gov't Healthcare".
So, when given the opportunity, do these people actually say no to government healthcare? Sadly, no. Apparently one of the protesters had a heart attack and was saved by — you guessed it — government health care:
Medical personnel from the Capitol physician's office — an entity that could, quite accurately, be labeled government-run health care — rushed over, attaching electrodes to his chest and giving him oxygen and an IV drip.

By the time it was over, medics had administered government-run health care to at least five people in the crowd who were stricken as they denounced government-run health care.