The first decade of the new millennium was the first time since we started keeping records when we failed to create any new jobs. Not only that, but it was the first decade when the average net worth of American families declined.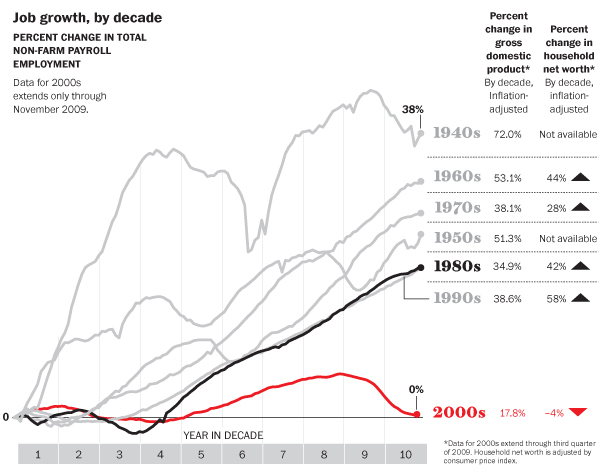 From the Washington Post:
There has been zero net job creation since December 1999. No previous decade going back to the 1940s had job growth of less than 20 percent. Economic output rose at its slowest rate of any decade since the 1930s as well.

Middle-income households made less in 2008, when adjusted for inflation, than they did in 1999 — and the number is sure to have declined further during a difficult 2009. The Aughts were the first decade of falling median incomes since figures were first compiled in the 1960s.

And the net worth of American households — the value of their houses, retirement funds and other assets minus debts — has also declined when adjusted for inflation, compared with sharp gains in every previous decade since data were initially collected in the 1950s.
UPDATE: I'm sure this news will start a flurry of finger pointing, with the Democrats blaming Dubya, the Republicans blaming Bubba Clinton, and I'm sure some wing-nuts will try to blame Obama. But the simple truth is that we have nobody to blame but ourselves. We created the housing bubble by blindly believing that housing prices would always rise faster than inflation, even though that is impossible. The American people somehow stopped caring about education and science, allowing the anti-evolution crowd and other forces of ignorance to influence curriculum. Sources of misinformation like Fox News wouldn't be able to poison political discourse if people didn't watch them. And rampant greed and power-lust wouldn't destroy our economy if we stopped worshiping money and power.