Andrew Sullivan reprints a great question from one of his readers that really makes you think about how stupidly the US is responding to terrorist acts. The (paraphrased) question is, if the Christmas day underwear terrorist really wanted to blow up the airplane, why did he go back to his seat where he had to fiddle with a makeshift detonator in public (where other passengers would jump on him and stop him)? Why didn't he stay in the toilet?
One interesting possible answer to this question is: because the people who planned the attack knew that there was no way they could get enough explosives (or a good enough detonator) past airport security to actually blow up the airplane, so he had to be in public (not in the toilet) when the bomb failed so that we would think that he tried to blow up the airplane. They figured that if this was publicized as a failed terrorist attack, we would overreact and become terrified. Which we did.
The real goal of terrorism is to create terror, not to blow up airplanes or kill people. Therefore, this terrorist attack succeeded brilliantly (well, except for the patsy who fried his privates instead of going to heaven to claim his promised virgins).
Interestingly, they've done this before. Recall the shoe bomber. He supposedly failed in his mission, but caused plenty of overreaction and terror. The terrorists seem to have learned from that experience, but apparently we did not.
So, the next time Cheney or some other politician accuses Obama of not reacting fast or strongly enough to a terrorism attempt, think about what they are doing.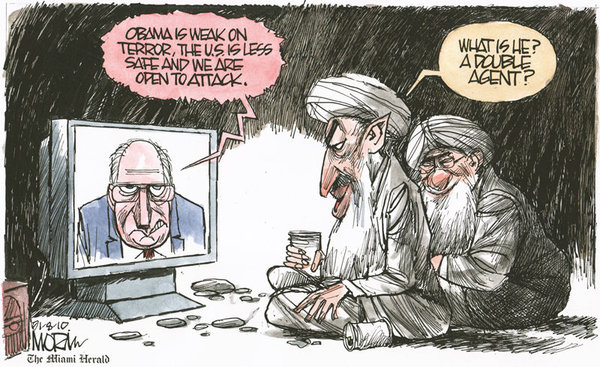 © Jim Morin
UPDATE: Fareed Zakaria has an excellent article about this. Here's one quote:
Terrorism is an unusual military tactic in that it depends on the response of the onlookers. If we are not terrorized, then the attack didn't work. Alas, this one worked very well.