Two years ago, CBS refused to run ads created by Moveon.org during the Superbowl, claiming that "the spot violated the network's policy against running issue advocacy advertising". They also refused to run an ad from PETA, the animal rights group, because they do not accept advertisements on "controversial issues of public importance." This year CBS refused to run an ad during the Superbowl from Gay dating site mancrunch.com, saying that it did not meet their standards.
But somehow, all that isn't stopping CBS from running an ad during this year's Superbowl from Focus on the Family, a conservative media ministry. Remember them? Among other things, they were the group that asked people to pray for rain to start exactly two minutes before Obama's acceptance speech at the Democratic national convention back in August 2008, because they wanted the next president to be against abortion and gays (mysteriously, Obama's speech had perfect weather, while the Republican convention had Hurricane Gustav).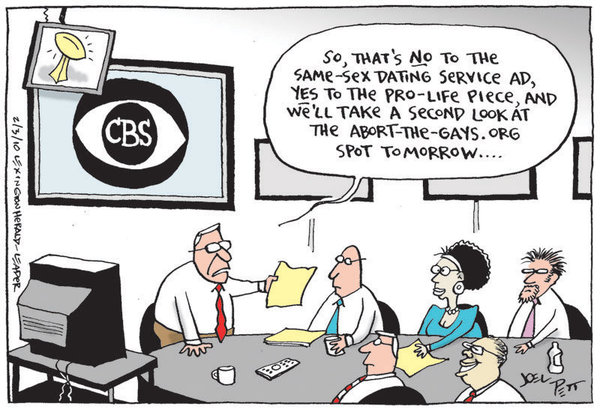 © Joel Pett
UPDATE: Richard Dawkins weighs in on the ad being run by Focus on the Family, which features football star Tim Tebow.