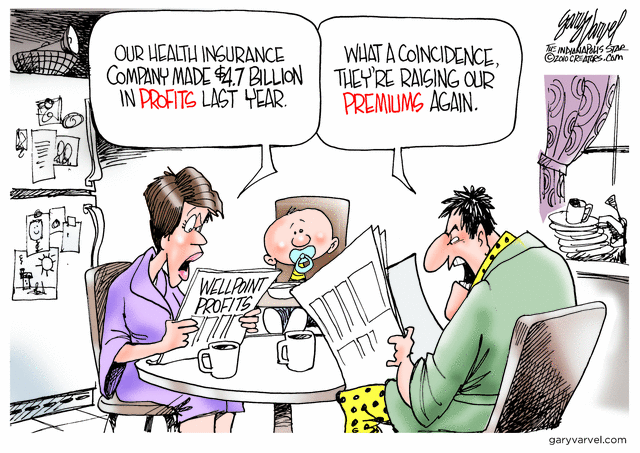 © Gary Varvel
The health insurance industry is blaming rising premiums on the increased cost of health care, but for the majority of large health insurers the percentage actually spent on health care went down, while the percentage spent on administrative expenses and profits went up.
The five largest U.S. health insurance companies sailed through the worst economic downturn since the Great Depression to set new industry profit records in 2009, a feat accomplished by leaving behind 2.7 million Americans who had been in private health plans. For customers who kept their benefits, the insurers raised rates and cost-sharing, and cut the share of premiums spent on medical care. Executives and shareholders of the five biggest for-profit health insurers, UnitedHealthGroup Inc., WellPoint Inc., Aetna Inc., Humana Inc., and Cigna Corp., enjoyed combined profit of $12.2 billion in 2009, up 56 percent from the previous year. It was the best year ever for Big Insurance.
I wonder how much lobbying to defeat health care reform cost them us.