Two interesting bits of news:
First, a new poll shows that only 6% of Americans think the stimulus bill created any jobs.
Second, two non-partisan, well-regarded economic research firms report that the economic stimulus bill passed by Congress has created between 1.6 and 1.8 million jobs and has definitely helped get the economy moving in the right direction. And you don't have to be an economist to see that the stimulus bill created lots of jobs — the evidence is simply everywhere. State governments were able to keep teachers, firefighters, and other jobs that would have been lost without the stimulus. Corporate spending also surged because of a tax credit for corporate investment that was part of the stimulus bill. And it increased consumer spending by at least $100 billion.
I posted this graph over a week ago, but it deserves repeating: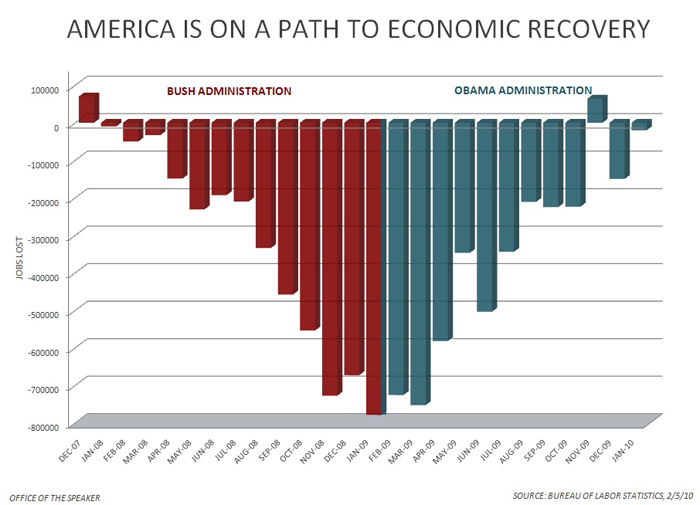 The question is, why do so few Americans think the stimulus bill helped? Hmmm, could it be because a Republican PR campaign against the stimulus bill? Like here, where Scott Brown, the new Republican senator from Mass., says that the stimulus bill "didn't create one new job"? Non-partisan PolitiFact rated that line a "pants on fire" lie. Or maybe like here, an opinion piece in the Wall Street Journal (now owned by the same company as Fox News) with the headline "The Stimulus Didn't Work". Ironically, two of the authors of this article work for The Hoover Institution, named for the Republican president that famously presided over the start of the Great Depression (mirroring Dubya's role in the current economic mess) and whose economic policies are frighteningly similar to those of the current Republican party.
Or could it be the tea partiers, constantly screaming against any spending from Obama, but who were curiously silent when Dubya spent even larger amounts of money on two wars and an unfunded Medicare giveaway to the drug companies. The media gives tons of coverage to Tea Party events, but when was the last time they honestly discussed the economy and how it is improving? Still think there is a "liberal media" in this country?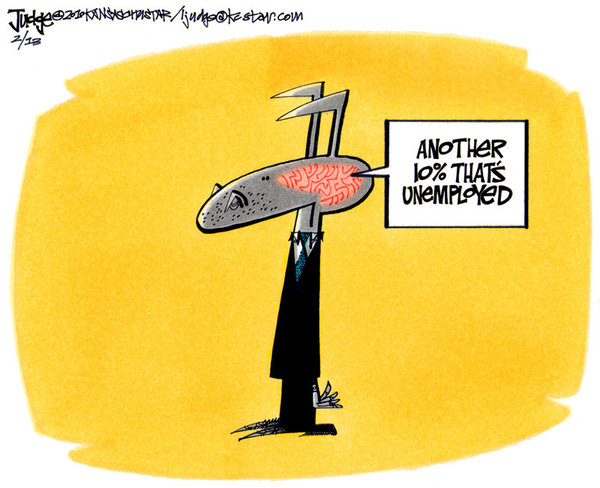 © Lee Judge