Republicans are having a nuclear meltdown about Democrats using the budget reconciliation process to pass health care reform.
Senator Orrin Hatch (R-UT) wrote a letter to Obama this week, urging him to rule out the possibility, saying:
The use of expedited reconciliation process to push through more dramatic changes to a health care bill of such size, scope and magnitude is unprecedented.
My favorite quote, however, is from Senator John Kyl (R-AZ), who doubles down on his whoppers, saying that budget reconciliation "was never designed for a large, comprehensive piece of legislation such as health care, as you all know. It's a budget exercise, and that's why some refer to it as the 'nuclear option.'"
Note how he says "as you all know" when (as we shall see in a minute) what he is really saying is "as you all know is false". But the killer line is when he says "some refer to it as the 'nuclear option'". The "some" (he cunningly doesn't name) is actually Fox News. Fox News, in their official capacity as the propaganda arm of the Republican party, has been trying to make it sound like the Democrats are being hypocritical by proposing the use of budget reconciliation, because they opposed the "nuclear option" a few years ago when Republicans were in power:
In a Fox News Special Report, they "report" that reconciliation "was once called the nuclear option" and show video clips of Democrats criticizing the nuclear option when Republicans were trying to use it. Their special (fair and balanced) report then concludes "Thank you for establishing beyond all doubt that politicians are hypocrites."
Speaking on the same topic, Sean Hannity asks "What do you make of the hypocrisy?".
Greta Van Susteren's show talks about "Democratic hypocrisy" noting that "years ago when it came to Republicans using reconciliation, many Democrats were singing a different tune."
Glenn Beck asks "Why are they threatening this so much? Especially when they all stood up and said it was such a bad idea."
And in a statement that is inherently ironic, host Brian Kilmeade of Fox and Friends says "The problem with reconciliation is the Republicans say it's an outrage." Oh, I see, according to Fox News the problem is what Republicans say about something, not that there is any actual problem.
In fact, Fox News is just plain lying when they say that budget reconciliation is the same thing as the "nuclear option". They think that their viewers are too stupid to remember that the "nuclear option" was a Republican scheme to change Senate filibuster rules on judicial nominees so they could stack the courts with right-wing ideologues. The term itself was coined by former Senator Trent Lott (R-MS) and has absolutely nothing to do with budget reconciliation.
The Budget Reconciliation process is not a change to Senate rules at all. Republicans themselves have used the budget reconciliation process many, many times, including to pass Bush's tax cuts in 2001 and 2003 as well as the 2005 "Tax Increase Prevention and Reconciliation Act" (note the word "Reconciliation" in the title of the bill). Republicans also tried to use budget reconciliation to open up the Arctic National Wildlife Refuge to oil drilling (but failed since some Republicans opposed it).
So equating budget reconciliation with the "nuclear option" (which Democrats rightly opposed) is just a lie. What about claims that budget reconciliation isn't used for health care bills? That one is laughably false. A story in (of all places) NPR points out, the overwhelming majority of health care legislation in the past 30 years has been passed using budget reconciliation.
For example, take COBRA, the law that allows you to keep your company's health care plan for a limited time after you are laid off. The only reason it is called COBRA is because it was a (small) part of the Consolidated Omnibus Budget Reconciliation Act of 1985. The name COBRA has nothing to do with health care, it is all about budget reconciliation. Not only that, but COBRA was passed when the Republicans were in power.
In addition to COBRA, the childrens' health program called CHIP, major expansions of medicare, and many other bills were passed using reconciliation. Not only have most recent major pieces of health care legislation been passed using budget reconciliation, but the majority of those were passed when Republicans controlled at least one chamber of Congress.
Bottom line: budget reconciliation is not the "nuclear option". It is not new, and it is not a change to Senate rules. In fact, it is used all the time, by both Republicans and Democrats. It has been used to pass the majority of health care legislation in the past 30 years, by Republicans more often than by Democrats. So for the Republicans to accuse the Democrats of hypocrisy for using budget reconciliation is the height of hypocrisy!
Note that it is also instructive to examine how the Republican propaganda machine works. Step one: Andrew Breitbart shows a video on his blog equating budget reconciliation with the 'nuclear option'. Then Fox News piles on with story after story, even though it is clear that they know they are lying. Hannity, Van Susteren, Dick Morris, Bret Baier, and Bill Sammon all falsely compared budget reconciliation with the "nuclear option". They even use a graphic of a mushroom cloud from a nuclear bomb: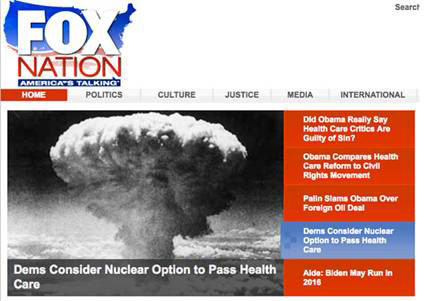 And finally, a Republican senator, picking his words carefully to ensure plausible deniability, says that "some refer to it as the 'nuclear option'". He doesn't say that reconciliation is the same thing as the nuclear option, because he knows that is false and he could get called on it. The other mainstream media (other than NPR) don't bother to point out the lie, and stupid voters end up thinking that the Democrats are being hypocritical, when it is the Republicans who are knowingly lying through their teeth.
UPDATE: PolitiFact rates as True the claim that Republicans have used budget reconciliation more than Democrats. In fact, they looked at the cases where budget reconciliation was specifically used to avoid a Senate filibuster, and find that Republicans used it four times more often than Democrats.