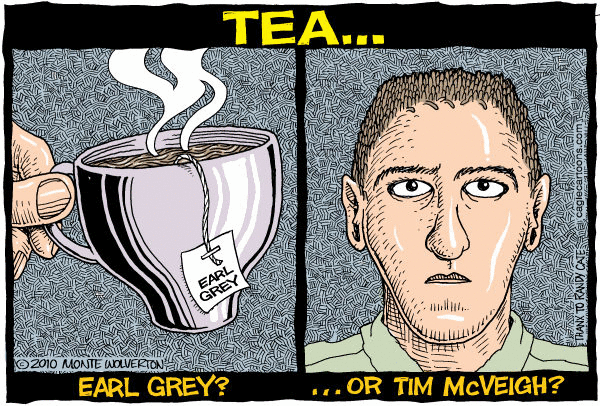 © Monte Wolverton
I posted this because it is humorous, but it does bring up a serious point. If we are to believe that the tea party protests are not just racist or partisan, they need to make it clear what they are protesting. As this interesting blog post points out:
They say it is about "freedoms"… but they can point to no freedoms that have been lost over the last 14 months.

They say the Constitution is being destroyed, but when you ask them what parts of The General Welfare Clause or Congresses' power to regulate Interstate Commerce are being violated … they stand mute with rage.

They say it is about taxes … but they can find no drastic tax increases in the last 14 months.
Another great take on this is "The Odd World Of Right Wing Rage".
UPDATE: Someone did a conservative response: "The Bizarre World of Left-Wing Rage".