Yesterday (in honor of tax day), there was a Tea Party protest against taxes on the Boston Commons. But as usual, I'm only interested in the (obvious) irony and humor.
Like how the Tea Partiers were protesting on the commons (as in communist), a place paid for by taxpayer dollars. Or that Tea Party protests often cost quite a bit of taxpayer money.
But my favorite bit of irony comes from The Boston Globe. Valerie and Rob Shirk drove themselves and their ten (home-schooled) children 2 1/2 hours to take part in the protest. Says Valerie Shirk:
The problem in this country is that too many people are looking for handouts. I agree with the signs that say, "Share my father's work ethic — not his paycheck." We have to do something about the whole welfare mentality in this country.'
Ironically, despite being against Obama's health care reform, the Shirks rely on federal Medicaid for their family's health care. When asked about this, she replied that she did not want to stop having children, and that her husband's income was not enough to cover the family with private insurance. "I know there's a dichotomy because of what we get from the state. But I just look at each of my children as a blessing."
I don't want you to think that I only make fun of the Tea Partiers, so here's Jon Stewart making fun of the media coverage of the Tea Party movement:
Finally, Buzzfeed has photos of people who showed up with fake protest signs to make fun of the tea baggers. I leave you with just one of them: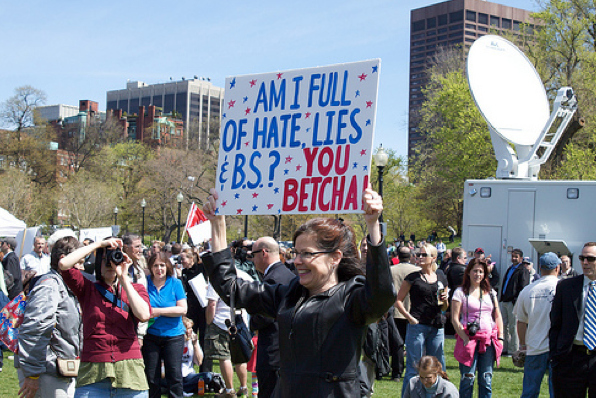 UPDATE: The NY Times did a poll to try to figure out what tea partiers want. It turns out, apparently even they don't know:
When talking about the Tea Party movement, the largest number of respondents said that the movement's goal should be reducing the size of government, more than cutting the budget deficit or lowering taxes.

And nearly three-quarters of those who favor smaller government said they would prefer it even if it meant spending on domestic programs would be cut.

But in follow-up interviews, Tea Party supporters said they did not want to cut Medicare or Social Security — the biggest domestic programs, suggesting instead a focus on "waste."

Some defended being on Social Security while fighting big government by saying that since they had paid into the system, they deserved the benefits.

Others could not explain the contradiction.

"That's a conundrum, isn't it?" asked Jodine White, 62, of Rocklin, Calif. "I don't know what to say. Maybe I don't want smaller government. I guess I want smaller government and my Social Security." She added, "I didn't look at it from the perspective of losing things I need. I think I've changed my mind."
UPDATE 2: Andrew Sullivan has a very good analysis of the tea party movement and his reaction to it.