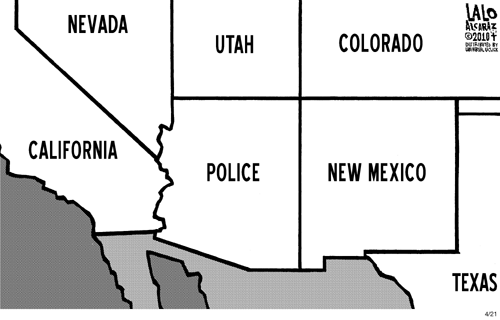 © Lalo Alcaraz
It is amazing how much misinformation is being thrown around concerning immigration reform, especially the new law in Arizona that makes it illegal to not carry proof of citizenship. First of all, I don't know about you, but I don't walk around with my passport, birth certificate, or other proof of citizenship, but I guess I'm just lucky because I don't look like an "illegal immigrant" (and just guess what an illegal immigrant looks like!) The whole thing reminds me of all those WWII movies where the evil Nazis were always demanding innocent people "show their papers". It was racist then and it is racist now.
Second, I keep seeing the media repeat the Republican talking point that Arizona was forced to do something about illegal immigration because the federal government has failed to do so. Bull crap! Illegal immigration in Arizona is actually down 18%. And why? It's the economy stupid. No jobs for illegal immigrants means no illegal immigrants. It is that simple. So why was Arizona "forced" to take action now?
I've seen people claim that action against illegal immigrants is required now because jobs are scarce, and illegal immigrants are taking jobs from our citizens. More crap. Immigrants actually create new jobs. In the last 25 years, virtually all new jobs were created by startups. That's about 40 million jobs. And roughly 25% of all successful high-tech startups in the last 10 years were started by (you guessed it) immigrants. So while anti-immigrant fear mongers rail about job numbers in the hundreds of thousands, immigrants contributed around 10 million new jobs.
And most importantly, Arizona already has laws on the books making it illegal to employ people without checking their citizenship. But they don't enforce those laws. If Arizona started arresting employers for hiring illegal immigrants and putting them in jail, you can bet that the illegal immigration problem would go away overnight. But instead, Arizona blames the problem on the victims, and whines that they were "forced" to become a police state to solve a problem that has an easy solution, and has been going down anyway.
UPDATE: Seth Myers on SNL talks about the new law:
This week, Arizona signed the toughest illegal immigration law in the country which will allow police to demand identification papers from anyone they suspect is in the country illegally. I know there's some people in Arizona worried that Obama is acting like Hitler, but could we all agree that there's nothing more Nazi than saying "Show me your papers?" There's never been a World War II movie that didn't include the line "show me your papers." It's their catchphrase. Every time someone says "show me your papers," Hitler's family gets a residual check. So heads up, Arizona; that's fascism. I know, I know, it's a dry fascism, but it's still fascism.
UPDATE 2: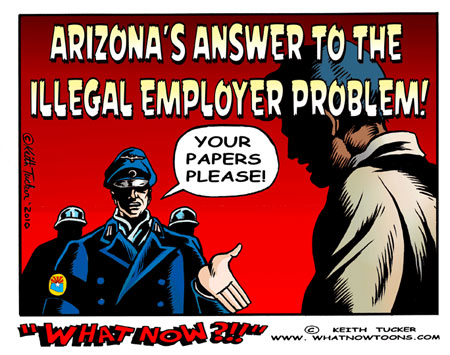 © Keith Tucker