So, curious what could possibly go wrong with Arizona's new anti-illegal immigrant law? Don't think it will be used to discriminate against Mexicans (or people who look like Mexicans)?
Consider the recent case of Eduardo Caraballo. Caraballo was held for three days by federal immigration authorities in Chicago, was told that he was an illegal immigrant and that he was going to be deported.
The only problem? Caraballo is a US citizen. He was born in Puerto Rico (yes, Puerto Rico is part of the US, in case you don't know that). He showed authorities his Illinois state-issued ID, but that wasn't enough. His mother even brought in his birth certificate and his social security card, but they didn't like that either. They finally released him, but only after his mother contacted Representative Luis Gutierrez.
According to Caraballo, officers asked him specific questions about Puerto Rico, which he couldn't answer since he left there when he was eight months old. Apparently they thought his official papers were fake.
So, does anyone think that something like this would ever happen to someone who wasn't hispanic?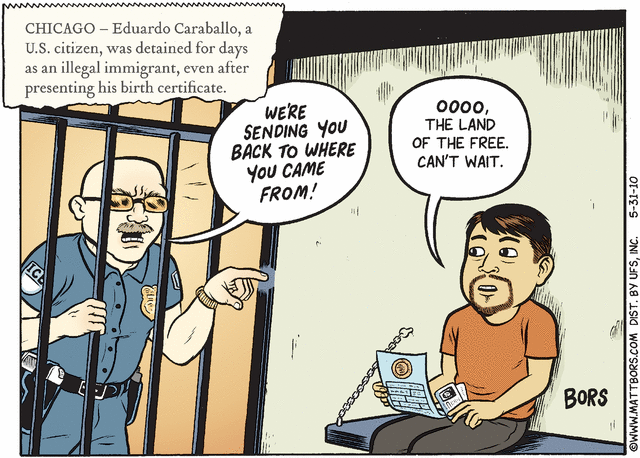 © Matt Bors