Last Wednesday Diebold agreed to pay $25 million in a settlement with the Securities and Exchange Commission for fraudulently manipulating its earnings to meet financial forecasts. But the SEC is pursuing additional fraud charges against three former executives, including their chief financial officer, controller and finance chief, and the director of corporate accounting.
Some of you may remember Diebold as one of the villains in the whole electronic voting mess a few years ago. Last year, they sold their voting machine businesses to Election Systems & Software, but the current SEC charges cover violations incurred during the same time that Diebold was defending itself against massive irregularities in their voting machines.
What Diebold was doing was using illegal accounting practices to make their revenues look larger than they actually were, in order to inflate their stock price. This in turn defrauded their investors. But what I found interesting was how they did it. The company distributed internal reports called "flash reports" that compared actual earnings to Wall Street analysts' forecasts, and then employed a smorgasbord of fraudulent accounting practices in order to make their real earnings look like their desired earnings. And they did this year after year.
Does this sound similar to figuring out how you want an election to turn out, and then fixing the numbers so that the actual vote looks like the desired vote?
According to the SEC, the illegal accounting inflated Diebold's reported earnings by at least $127 million, which makes the $25 million penalty look paltry.
Oh, and if you're glad that Diebold is no longer in the voting machine business, just remember that they make most of the ATMs you use to get cash.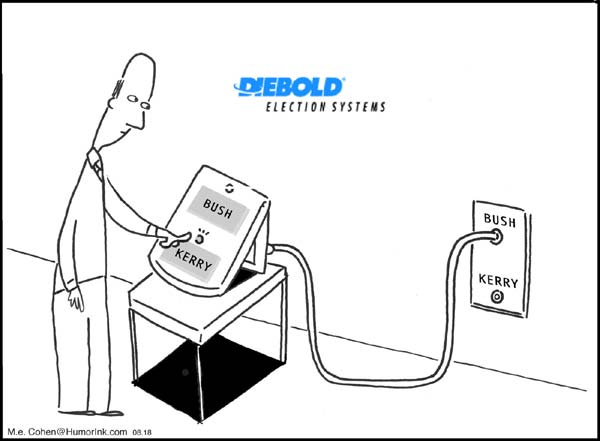 © M.e. Cohen