Republicans keep calling the Gulf oil spill "Obama's Katrina" and are claiming that Obama has not responding appropriately and quickly enough to the disaster.
But according to a report by CBS news, Republican governors are delaying the deployment of National Guard troops that Obama has authorized to help with the cleanup. For example, Louisiana Governor Bobby Jindal says "We will only be winning this war when we're actually deploying every resource." And he complains that the federal government "can provide more resources" and "It's clear the resources needed to protect our coast are still not here."
But nearly two months after Louisiana requested, and the Pentagon approved 6,000 National Guard troops to help fight the spill, only 18% of them have been deployed by Jindal.
The situation is even worse in other states affected by the spill. In Alabama, 3,000 troops are available, but governor Bob Riley has deployed less than 14%. In Florida, with 2,500 troops authorized, governor Charlie Crist is utilizing less than 3%. And in Mississippi, of 6,000 ready to help, governor Haley Barbour has only deployed 58, which is less than 1%.
Obama says "I urge the governors in the affected states to activate these troops as soon as possible." but they appear to be largely ignoring him.
So why would four governors, all Republicans (although Charlie Crist recently went independent) want to delay the deployment of National Guard troops that they themselves have requested? It isn't because of money — BP has already agreed to bear the cost of these troops. Could it possibly be for political reasons? Would a governor really sit by and watch their own states be destroyed and their own constituents' lives and livelihoods sink in the oil muck just to score cheap political points against our president?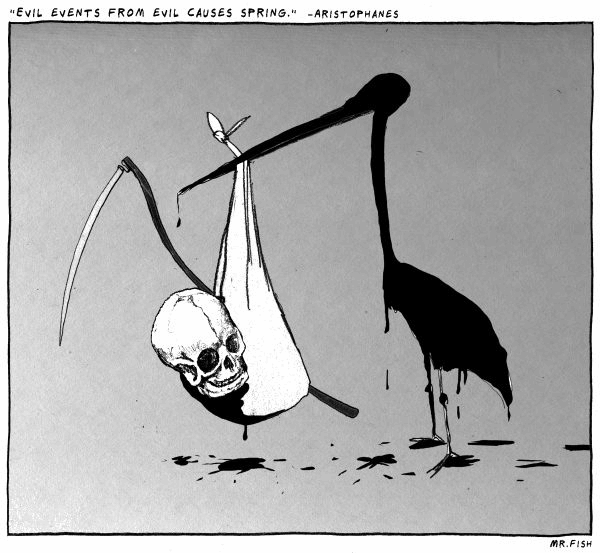 © Mr. Fish
UPDATE: Jindal responds that the reason he didn't deploy National Guard troops was because he didn't need them. He also complained that the Federal government doesn't understand "this oil spill as the war that it is." I guess he is trying to position himself as the war governor. But his record shows that it is he that isn't taking oil spills seriously. In fact, most scientists think that Jindal's proposed solution would make things worse.