A curious thing is happening during the Supreme Court confirmation hearings for Elena Kagan. Rather than attacking Kagan, Republicans are attacking Thurgood Marshall. Why are they attacking Marshall? After all, the Senate already confirmed Marshall to the Supreme Court in 1967, and he died in 1993. But they brought him up anyway because Kagan worked as a clerk for him 20 years ago.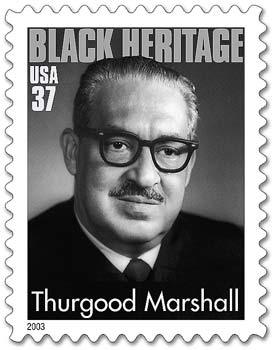 Thurgood Marshall made history as the first black Supreme Court justice. But even before that, he had reserved his place in history as the civil rights lawyer who argued the famous Brown vs. Board of Education case before the court he would later join. Marshall won 29 of the 32 cases he argued before the Supreme Court, many decisively — Brown garnered a 9-0 vote, even though it was overturning a previous Supreme Court decision. Marshall is also on the Episcopal Church's list of "Holy Women and Holy Men" which literally means that he is a saint. He has also been honored with the Presidential Medal of Freedom, a postage stamp, a broadway show, and an airport (which current GOP chair Michael Steele helped name after Marshall).
But that didn't stop Senator Jon Kyl (R-AZ) from saying "Justice Marshall's judicial philosophy is not what I would consider to be mainstream." Jeff Sessions (R-AL) called Marhsall a "well-known activist" and John Cornyn (R-TX) labeled Marshall "a judicial activist" (although Republicans had difficulty naming any specific cases that were examples of Marshall's purported activism) . Chuck Grassley (R-IA) feels that Marhsall's legal view "does not comport with the proper role of a judge or judicial method." And Republicans circulated reports that "Justice Marshall endorsed 'judicial activism,' supported abortion rights, and believed the death penalty was unconstitutional." Clearly, today's Republicans would not have confirmed Marshall to the Supreme Court.
Are Republicans just trying to appeal to racists? Because I suspect they already have that vote sewn up.