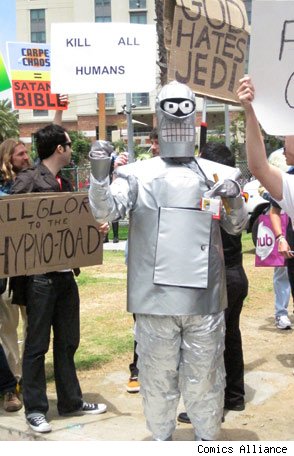 The gay-hating Westboro Baptist Church (WBC) is mostly known for picketing the funerals of murdered homosexuals and Jews, but they also protest other places and events. One of the craziest was picketing an appliance store that was selling Swedish vacuum cleaners, because a Swedish pastor had been convicted of anti-gay hate speech. The pastor, whose conviction was later overturned, actually denounced the WBC, who in return denounced the pastor as a traitor and an ingrate.
But WBC's latest target was the annual Comic-Con in San Diego for "idol worship". But I'm guessing that the handful of WBC picketers weren't prepared for the counter-protest from Sci-Fi fans, many of whom were dressed in costume and carrying ironic signs (see photo at right, but lots more lovely ironic photos and a video at the link). Some of the counter-protestors were even chanting "What do we want?", "Gay Sex!", "When do we want it?", "Now!".
The WBC protestors: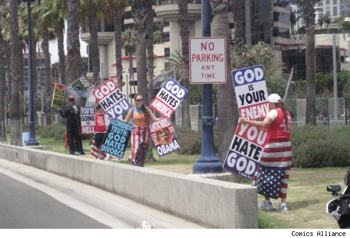 UPDATE: Here's a larger photo of the counter-protest.