The Wall Street Journal (hardly a hotbed of wealth redistribution) published this interesting graph showing the tax load for various income levels under Bush's tax policies versus Obama's tax policies: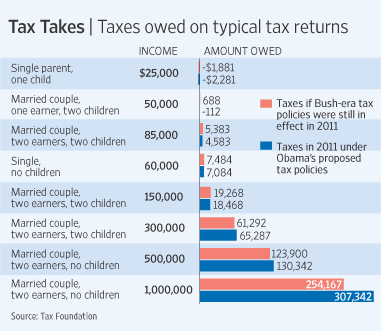 It turns out that allowing the Bush tax cuts to expire will only hurt people earning more than $300,000 per year. And it appears as if keeping the Bush tax cuts in place would force people earning $60-150,000 to pay slightly more.
Even Alan Greenspan said the cuts should be allowed to expire.
Ezra Klein has a similar graphic in the Washington Post. Gee, the Post agrees with the Journal!
UPDATE: Centrist Zealot zeros in on the problem: while we all claim we want to reduce the deficit, we aren't willing to reduce spending, and we sure as hell aren't willing to raise taxes.