I have started wondering why Republicans decided to make a big deal out of some Islamic cultural center being built in an old Burlington Coat Factory store site. After all, it is pretty much a non-issue, since it would be clearly unconstitutional to legally block them from building it.
And then it hit me. The Republicans don't care about the "Mosque at Ground Zero". What they care about is distracting everyone. This stupid story is dominating the news. Heck, even I have done a bunch of posts about it. Meanwhile, nobody is paying attention to how the Republicans are blocking efforts to fix the economy, or efforts to help 9/11 responders. They've gotten pretty much every Democratic politician to weigh in on the issue, from Obama on down. And that's exactly what the Republicans want — people focused on stupid issues, rather than the real issues and problems that we face.
It is the perfect wedge issue. It is the Terry Schiavo or Elian Gonzalez issue of the week. Full of sound and fury, signifying nothing. And told by an idiot.
It is time to stop acting like sheep. I'm going to stop posting stories about the mosque. I really don't care if they build it or not, and there are far more important issues to talk about.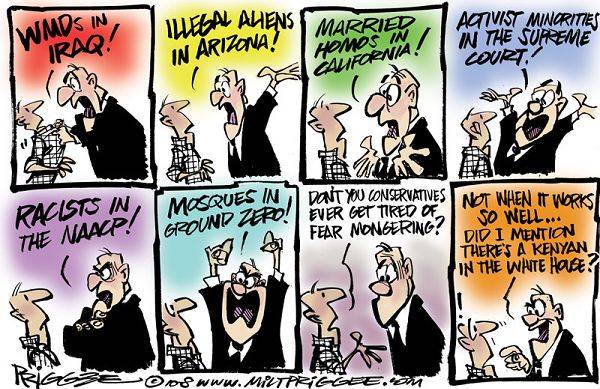 © Milt Priggee
UPDATE: Ok, ok, I know I wasn't going to post anything more about this, but I just have to let Jon Stewart have the last word. After all, his brilliant piece seems to have more to do with how the media (cough — Fox News) is using this issue to drum up fear: