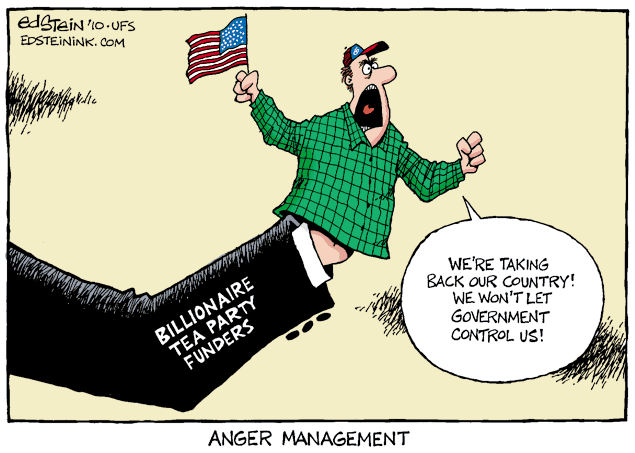 © Ed Stein
I love reading Ed Stein's comics on his website, because he usually includes extra information. Here's what he included for this one:
It's not even a question that the national economic policies of the last few decades have favored the wealthy at the expense of the middle class. We've seen an astonishing increase in income inequality as taxes have become more regressive and the marketplace has been increasingly deregulated. The percentage of the nation's wealth controlled by a tiny minority has grown exponentially while the income of lower- and middle -class Americans has stagnated.

I've wondered for years how so many people have been persuaded to vote again and again against their own economic self-interest. A revealing article by Jane Mayer in the August 30 issue of The New Yorker magazine helps explain it. Over the years billionaires like Rupert Murdoch and the Koch Brothers have steadily funded operations designed to stoke populist anger against the government and progressive ideas. The Tea Party, far from being a spontaneous populist movement, has been underwritten with tens of millions of dollars and coordinated through a network of organizations with names like Americans for Prosperity, with the singular goal of creating an angry block of disaffected voters who will unwittingly vote for policies that benefit the very wealthy.

Lurking behind the trumped-up fear of a government takeover of our lives is a desire on the part of these rich funders to force government out of the job of regulating how they do business, protecting workplace safety, defending the environment, overseeing the safety of the food supply, and raising their taxes–in other words, doing anything that might reduce their profits. That would also include, by the way, paying for the safety net. How this will be good for the army of middle class Americans they've enlisted to fight their battles for them is something I can't answer, and I suspect the zealous Tea Party devotees can't either. But letting out the anger, I guess, feels really good, even if the eventual consequences most certainly won't. But, by then, we might have another Democrat in the White House we can blame for our troubles.