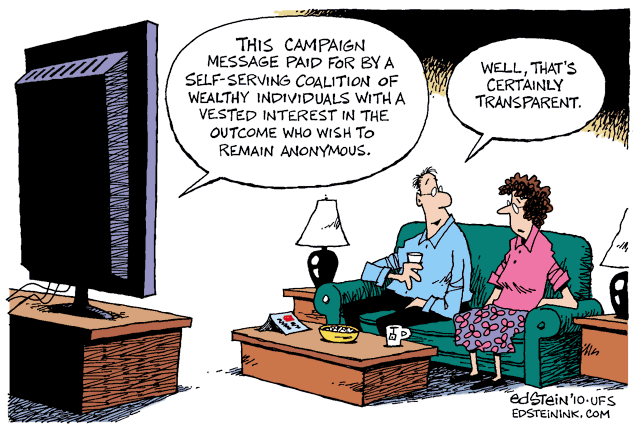 © Ed Stein
Back in the last mid-term election, in 2006, outside interest groups spent $16 million on campaign ads for political candidates. Not chump change, but it is nothing compared to the $80 million already spent by outside groups in this election, and we still have almost a month to go.
Yes, the Supreme Court certainly opened up the floodgates to corporate spending, but that's not the only problem. Republicans have long opposed campaign finance laws, saying limits were unnecessary as long as the sources of campaign funds were identified. But when Obama and the Democrats introduced the Disclose Act, which required disclosure by corporations and outside interest groups and restricted political activities by foreign-owned corporations, the Republicans filibustered it. Not a single Republican was even willing to discuss ways the bill could be amended to win their votes. In other words, they lied.
I suppose it is not surprising. After all, over 85% of this money is being spent for Republican candidates. And unlike 2006, when over 90% of donations were disclosed along with the donor's identity, so far this year the majority of donations are secret.
Even worse, these shadowy, secretive groups are rather fond of negative ads, and don't mind bending the truth. For example, the "American Future Fund" paid for ads created by Larry McCarthy, the same guy who created the "Willie Horton" ads that preyed on voters' racial fears and help sabotage the candidacy of Michael Dukakis in 1988. In the new ads, they accuse Representative Bruce Braley (D-IA) of supporting the building of the "mosque at ground zero", even though Braley denies it.
The bottom line is that individuals can make contributions to political parties, but they are strictly limited in size and must be disclosed. Meanwhile, corporations have no limits and are not required to disclose anything when they spend tens of millions of dollars on political ads.