Hallowe'en is one of my favorite holidays — it is the one day you get to pretend. But some people use Hallowe'en as an excuse for "parental paranoia".
For example, if you are a parent, are you worried that some stranger is going to give your child candy with poison or razor blades in it?
Relax. There has never been even a single case of any child being killed by a stranger's Hallowe'en candy. It has never happened. And yet, people are still afraid of it.
Another example. Some cities and states are passing laws preventing registered sex offenders from even turning on their lights for trick-or-treaters on Hallowe'en, but "there is zero evidence to support the idea that Halloween is a dangerous date for children in terms of child molestation."
And there are a whole Hallowe'en bag full of other things to be scared of in addition to poison candy and neighborhood pedophiles, such as costumes that restrict breathing, masks that obscure vision, and costumes that can cause tripping and falls. Some places don't even allow trick-or-treating anymore, instead having adult-supervised parties that guarantee that kids have no chance of encountering anything even remotely dangerous, or even scary.
But a study of crime statistics from 30 states found that, at least statistically, children are actually safer than normal on Hallowe'en. In fact, the author of the study said "We almost called this paper, 'Halloween: The Safest Day of the Year,' because it was just so incredibly rare to see anything happen on that day."
Why? Perhaps it is because it is the one day of the year when we actually go around and meet our neighbors and maybe even talk to them. It is the one day when your typical subdivision turns into an actual community. And maybe, just maybe, it is sense of community that keeps our children safe, rather than paranoia.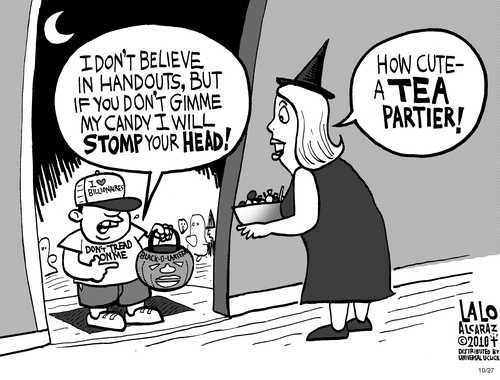 © Lalo Alcaraz