A new Wall Street Journal/NBC News poll provides an interesting view into the minds of Americans.
Several polls in the past have shown that a majority of Americans want to cut the deficit, even during hard economic times.
However, when asked how they would cut the deficit, 70% were against making any cuts to programs such as Medicare, Social Security, or defense. And 60% were against raising taxes. Since Medicare, Social Security, and defense make up the vast majority of the federal budget (not counting things like interest payments on the debt, which cannot be cut), this basically means that people want to cut the deficit, but they want the spending to continue and they don't want to have to pay for it.
One of the pollsters who conducted the survey summed it up: "Everybody wants to cut the deficit and cut the spending. But at the end of the day, everybody wants a choice that doesn't affect their well-being."
Also ironic was that when asked about the recent bipartisan proposal to reduce the deficit, more Republicans opposed the plan than Democrats. So are the Republicans actually interested in cutting the deficit, or are they just using it as a partisan attack?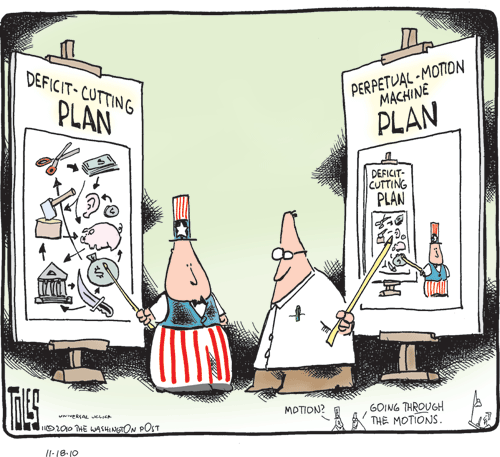 © Tom Toles