[by Geechee Girl, reprinted from Smoke Rings, Coffee Stains, with permission. Thanks Leslie.]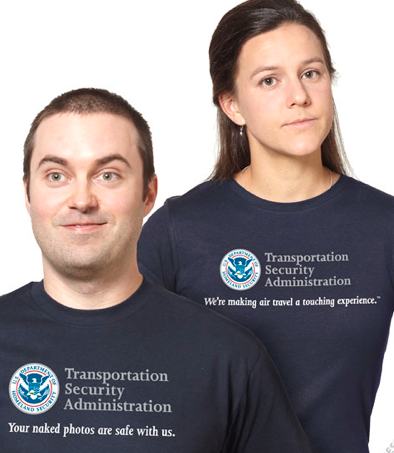 I've been pretty vocal about the new TSA "security" procedures lately and how against them I am. I'm sure the next time I fly will be be "interesting" because of it. Heck, I was vocal about it when it first started changing, right after 9/11. Ineffective smokescreens and placebos won't keep us safe, and the more rights we give up for an illusion, the more rights we can't get back.
If you follow me on Facebook, you may have seen these links already, but I thought I'd put them here as well for those that don't. I think it is so important to be educated.
• If you do nothing else with this post, Download This Opt Out Brochure and learn the risks of the body scanners and how to opt out of them. If it comes down to being repeatedly irradiated or being groped, I'll reluctantly choose being groped. Or drive. Or take a train.
• Participate in National Opt Out Day on November 24th, 2010. Yes, it is on the biggest travel day so it makes the biggest impact. Yes, it will cause inconvenience, just like these security measures already do. For more: National Opt-Out Day Called Against Invasive Body Scanners | Threat Level | Wired.com
• Read what the University of California, San Francisco and other educated scientists and health professionals have to say about the safety (or lack thereof) and lack of testing done on these scanners
• This is an excellent and well thought-out article on how our ostrich style reaction as a nation and lack of fighting these machines and new pseudo security measures is contributing to the problem in a big way. Written by Schneier for Contemporary Engineering.
• Here is FlyerTalk's excellent list of airports that have the scanners and new screening procedures in place, continuously updated. Hopefully the TSA won't make them take this down. Just in case, I've printed it out, along with the brochure above (same reason)
• Israel's airport has the highest risk in the world, and best safety record, with the least invasive safety procedures. Why our airport security needs to model theirs can be found in this fantastic article. They've been better at this for 50 years, and are appalled at how we approach the problem. My favorite part of the article was the reaction to our tendency to evacuate an entire airport at a threat instead of taking simpler containment measures.
• Some links illustrating recent fumbles by the TSA using these new screening methods against 3 year olds, rape victims, regular travelers (who opt out in the face of mal informed security details and now face huge lawsuits for no reason other than someone else's incompetence), scanner image leaks, and sexual harassment abuses. The FlyerTalk forums linked above has many, many more stories, as does Twitter, Facebook, and the rest of the web.
• A humorous shirt or two you can wear on National Opt Out Day next week can be found here.
• Ron Paul weighs in on the TSA and makes total sense.
• Oh good. Now these things are in private hands as well in the form of vans. Perfect. NOT.
• Well thought out post on why and how to resist the scope and instead choose the grope until we get this defeated.
• "She's already had breast cancer and been advised not to undergo needless Xrays."