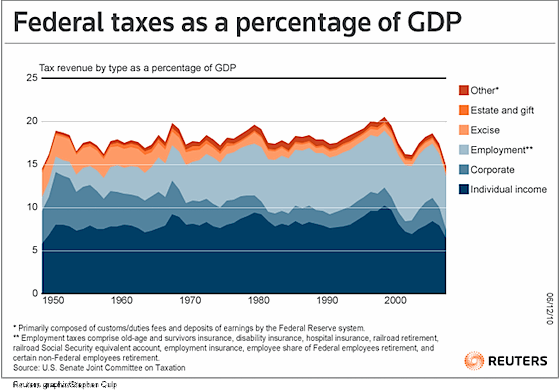 Felix Salmon on Reuters points out that Federal taxes (all taxes, not just income) haven't been this low in 60 years.
Also interesting is that while individual income taxes have remained about the same, corporate taxes have gone down significantly, and employment taxes (Social Security and related taxes) have gone way up. Excise taxes have also dropped. It is telling that the taxes that have gone up the most are the most regressive taxes (hit the poor more than they hit the rich). The two taxes that affect the rich the most — estate and gift taxes — have shrunk to zero.
And just a reminder. Earlier this year three quarters of Americans believed that Obama had raised taxes on them, when in fact he had lowered them.