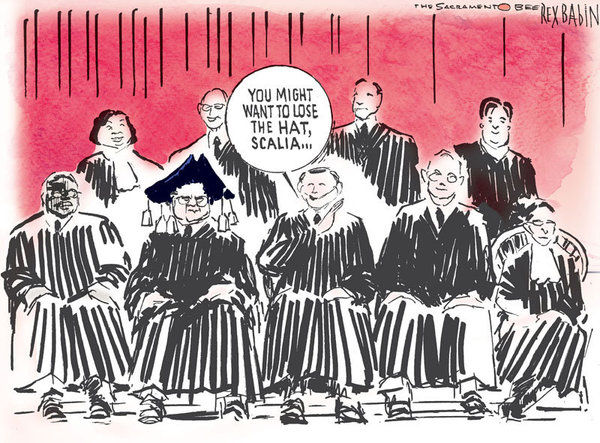 © Rex Babin
Monday, Supreme Court Justice Antonin Scalia appeared at an event organized by the House Tea Party caucus and Republican Congresswoman Michele Bachmann, but he didn't attend the State of the Union address the following night. This has caused some people to claim that conservative justices don't even feel the need to appear to be impartial. Supreme Court justices are supposed to be non-partisan.
In addition, Justice Clarence Thomas has been criticized because his wife organized a Tea Party event herself, which urged conservatives to fight for the repeal of Obama's health care reform bill. Conservatives are trying to get the bill declared unconstitutional, and it is widely assumed that this issue will eventually come up before the Supreme Court, so it looks pretty bad to have the wife of a justice actively fighting against the bill.
Coincidentally, on Monday Thomas amended his financial disclosure form after Common Cause pointed out that on his then current form, Thomas had marked that his wife had no previous income, when in fact she had worked 11 years for the conservative Heritage Foundation, among other jobs totaling $686,589. All Federal judges are required by law to disclose income earned by their spouses. Thomas claimed that it was a simple mistake, but lying on disclosure forms can be prosecuted as a felony. I'm waiting for Thomas to claim that he was ignorant of the law.