Today is Ronald Reagan's 100th birthday (they will even start the Super Bowl with a video tribute to the Gipper), so it is fitting to look back on his legacy.
Is Reagan a true American hero, or was he simply the first actor to play the role of President in real life? I'm not sure, actually. But I do know that any acting he was doing in the White House has been far eclipsed by the fiction that has been spun around his presidency by conservatives.
Perhaps the biggest example of this is the cargo cult that fervently believes that cutting taxes is the best (and perhaps only) way to economic growth. These people think of Reagan as the saint of tax cuts. And it is true that in his first year as president, Reagan cut the marginal tax rate for the rich from 70% to 28%. But what they ignore is that Reagan's big tax cut was a disaster.
Perhaps it is a credit to Reagan that he realized this, and he raised taxes every year after his first year. In fact, the man who edited Reagan's memoirs says:
Reagan was never afraid to raise taxes. … And so there's a false mythology out there about Reagan as this conservative president who came in and just cut taxes and trimmed federal spending in a dramatic way. It didn't happen that way. It's false.
Unfortunately, his biggest tax increase was to the payroll tax, so in effect he replaced a progressive tax with a regressive tax, shifting much of the tax burden from the rich to the not-rich. And even Reagan's budget director, the same man that orchestrated Reagan's huge tax cut, says that tax cuts are not working, and that we should raise taxes.
And yet, conservatives and Republicans still believe that Reagan never raised taxes. Worse, they claim that we can solve our budget deficit problems and help the economy by cutting taxes even more, although there is plenty of evidence of the opposite.
So on this day of remembrance for Reagan, if you are cornered by a conservative complaining about deficits and the size of government, remind them about how Reagan increased our deficit by $3 trillion and increased the size of government dramatically. Or if they start complaining about illegal aliens, remind them that Reagan gave amnesty to three million undocumented workers. Or if they talk about fighting a war with Iran, remind them that Reagan secretly sold arms to Iran despite an arms embargo against them, and used the proceeds to fund death squads in Nicaragua, which Congress had outlawed. Or if they try to pretend they are not racist, remind them of how Reagan vetoed sanctions against apartheid South Africa, asserting that they would not work. Or if they claim that only Republicans can prevent terrorism, remind them that Reagan helped create and fund the Taliban and Osama bin Laden in Afghanistan.
If you are truly interested in Reagan's legacy, read this excellent article in CBS news about Reagan, including both the prevalent myths and the reality. Or if that is too much trouble, here's a cartoon: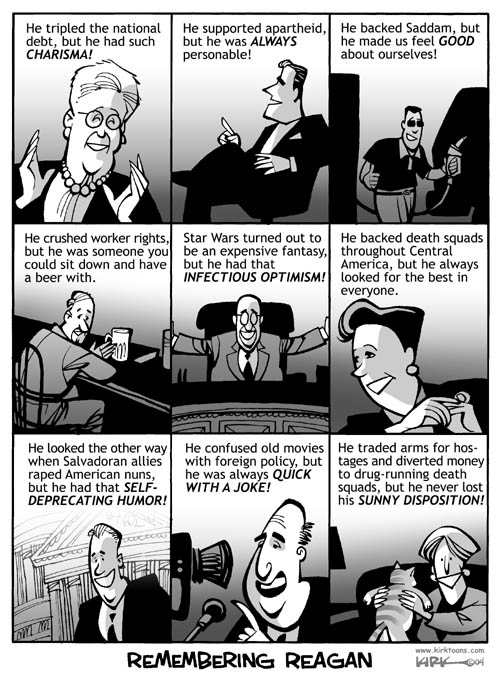 © Kirk Anderson
UPDATE: If you are concerned about corruption in government, Reagan's administration was one of the most corrupt in history with a total of 138 Reagan officials convicted, indicted, or named in investigations of official misconduct or criminal acts. Here is a list of all the people in the Reagan administration who were convicted of serious crimes directly related to their jobs — there are 21 of them, compared to eight for Nixon (who was forced out of office) and only one for Clinton (who was not).