[This is an excerpt from a post in Fred Wickham's Bullseye Rooster. Dan is Fred's brother, and Buzz is his business partner in a small business. I totally agree with this idea.]
Two years ago, Dan and Buzz were heartened by the election of Obama. Aside from all the marvelous change he would be bringing to America and the world, he promised to help small business. So it was a little bit odd when he put all the big bankers into the business policy jobs. It turned out to be worse than just odd, it's worse than nothing. No small business loans. No small business investment strategy at all. The large corporations are getting fatter and fatter, owning more and more, and actually buying out small businesses for a song. The inventors and entrepreneurs have been sucking hind tit. All the while, the stock market is going great. But jobs are not being created. It's all about trading now.
Paper trading — actually not even paper. Traders are scoring big with trades that last only a microsecond. A sufficiently well-heeled investor can buy and sell the same stock in less than a second and, through some sleight of rational thought, become a good deal richer. All in the time it takes to cough in the face of his intern.
I asked my brother if, as a small businessman, he could have any wish, what would it be?
"Get rid of the stock market," he said. I gave him a get real look, then he continued. "Get rid of the trading system as it is currently structured. These bastards are trading lickety-split, but there's no incentive for them to hold onto their investments. The stock hiccups, they take their profit and bail. The point of the market, old-fashioned as it may sound, is to capitalize a venture that you see as a viable addition to the economy. The designer, the workers, the sales staffs, the entrepreneurs and, yes, even the consumer — these are the people who must benefit to have a market that inspires production."
With that, Dan outlined his cure. Those who buy and sell stocks in a micro-second, should pay a 99% capital gains tax on their (excuse me while I clear my throat) earnings. Yes, outrageously confiscatory in order to stop this outrageous practice. A day trade, 90%. Sure it'll piss off the day traders on their laptops, but it should open up a few tables at Peets when these guys get off their asses and find something productive to do. Hold on to your stock for a week, 70%. A month, 60%. Year, 50%. Two years, 35%. Five years, 10%. Ten years or more, zero percent capital gains taxes.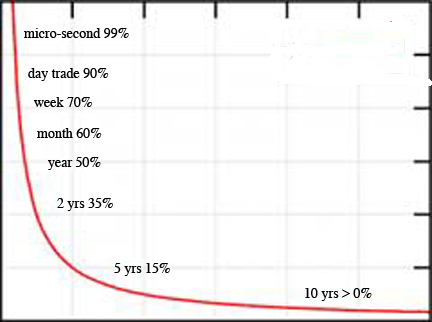 Certainly, this scheme would trigger outrage. The rich don't even like to pay taxes on their Grey Poupon. But that's the point. Propose it as it is. Let them scream. Wake the public up to what it is that investment is supposed to do for the economy, for the honest businessman, for the job-seeker.
I said, what would you call this? "Well, it's based on an asymptotic curve — might as well call it asymptotic trading."
Sounds good to me. Dan Wickham's Asymptotic Trading. DWAT.